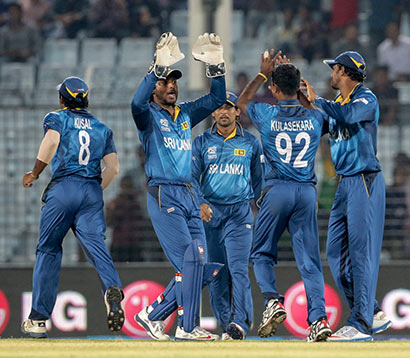 Sri Lanka 40 for 1 beat Netherlands 39 (Mathews 3-16, Mendis 3-12) by 9 wickets
Perhaps no team in world cricket puts weaker sides away so emphatically as Sri Lanka. Since becoming full-fledged graduates from the easy-beats category in the mid-90s, they have spared no thought to their former peers, and on Monday they added two more world records to the small pile they have accumulated against easy-beats over the past 20 years. Netherlands' 39 all out is the lowest ever Twenty20 score. Sri Lanka chased the target in a record five overs.
Their domination of Netherlands was, strangely, almost as casual as it was unyielding. Nuwan Kulasekara's opening over was full of the kind of swing away from left-handers he generates almost every time he has early use of the white ball. Yet, this time, it would set in motion the most dramatic collapse the format has seen, as Stephan Myburgh outside-edged him to third man. Next over, Angelo Mathews delivered two unremarkable half-trackers back-to-back, and found himself on-a-hat-trick, as Michael Swart and Wesley Barresi fell attempting to attack. The floodlight malfunction that caused a nine-minute break in play seemed a greater obstacle to a Sri Lanka victory than their opponents did, with the bat. The number of runs did not exceed the number of wickets until the 20th ball of the innings.
Mathews would trap Peter Borren in front with an indipper in his next over – bringing about one of four ducks in Netherlands' innings – and that was all before Dinesh Chandimal sent his heavy cavalry in. Lasith Malinga struck the base of the middle stump twice, both times with the slower yorker. Ajantha Mendis had an expensive first over, but the Netherlands lower order played exactly like batsmen who have never faced his brand of mystery spin before. The googly accounted for two of his three wickets. Netherlands were all out in the 11th over.
Sri Lanka were given a harder time with the bat, as Kusal Perera was rapped painfully on the thumb by Timm van der Gugten before he fell for 14, but the chase was always going to be a formality. Tillakaratne Dilshan would have hoped to bat himself into form against a weaker attack but he only faced 11 balls. Sri Lanka will take the two points and the massive boost in net run rate, but even they may be disappointed at how quickly it all ended. (ESPN CricInfo)