SRI LANKA FESTIVAL AT HIGASHIYAMA ZOO IN NAGOYA
Posted by Editor on October 8, 2012 - 1:48 pm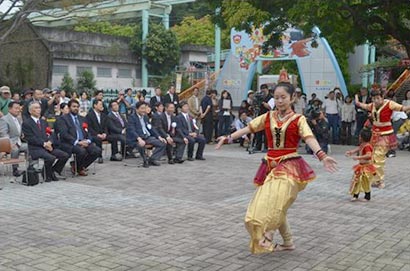 Japanese dancers perform Sri Lankan cultural dances at the Sri Lanka Festival held at the Higashiyama zoo on Saturday, 6th October 2012. Looking on are H.E.AdmiralWasanthaKarannagoda, Ambassador and Mr.Takashi Kawamura, Mayor of Nagoya
The Higashiyama zoo in Nagoya organized a special Sri Lanka Festival to mark the 60th Anniversary of Diplomatic ties between Japan and Sri Lanka on Saturday, 6th October in Nagoya, Japan. A large gathering of invitees graced the occasion with Ambassador Admiral WasanthaKarannagoda in special attendance as the Chief Guest.
The longstanding ties between the Higashiyama zoo and the Dehiwela zoo in Sri Lanka dates back to the time when the first 2 elephantswere gifted to the zoo by the Pinnawela elephant orphanage in 2005. At present these elephants are in good health and the female elephant is to give birth to a baby elephant in a few months.
Ambassador Admiral WasanthaKarannagoda in addressing the gathering acknowledged the untiring efforts of the zoo authorities in organising the event and highlighted the longstanding, strong ties between Japan and Sri Lanka and placed special significance on the solidarity shown by both countries in good times and bad; when the Great East Japan Earthquake struck Japan, Sri Lanka was quick to respond by extending assistance of a disaster relief team, tea donations, and frequent visits to the disaster struck region to assist the displaced.  The Higashiyama zoo in commemoration of the 60 years of diplomatic ties, named Ambassador Admiral Karannagoda as a Honorary Director of the Higashiyama zoo, a title only a few privileged foreign dignitaries are awarded; emphasizing the special relationship between the two zoological gardens in Japan and Sri Lanka.
In February this year, the Higashiyama zoo engaged in an animal exchange programme with the Dehiwela zoo, where the Higashiyama zoo gifted a giraffe and a sea lion to Sri Lanka. They are also currently in discussion with the Dehiwela zoo to receive two Sri Lankan elephants to Japan in exchange for a Black Rhinoceros to Sri Lanka.
Among the guests of honour who attended the event were Mr.Takashi Kawamura, Mayor of Nagoya, Mr.TakamotoNakagawa, Chairman of City Council, Mr.NoboruAkahane, Honorary Consul for Sri Lanka in Nagoya and Mr.Hidetake Yamamoto, Director General of the Higashiyama Park. The Higashiyama zoo consists of 820 acres of land and attracts over 2 million visitors annually.  The zoo authorities state that the most popular attractions at the zoo are currently the Sri Lankan elephants and the Australian koala bears.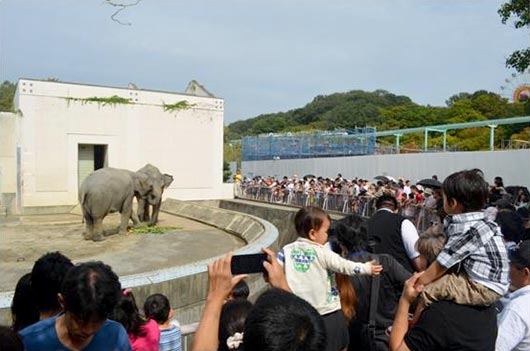 Sri Lankan elephants Anura and Kosara at the Higashiyama zoo in Nagoya, Japan.
Embassy of Sri Lanka
Tokyo
6th October 2012
Latest Headlines in Sri Lanka