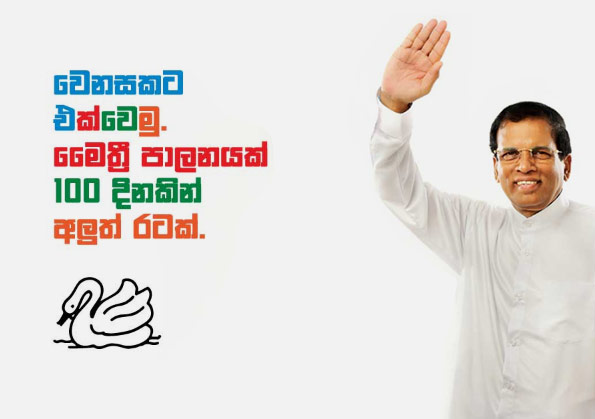 The Government of Sri Lanka led by President Maithripala Sirisena marks the completion of 100 days, today (23).
President Maithripala Sirisena will made a special announcement via all media at 9 p.m. today with regard to the 100-day programme.
The government says it has fulfilled 85 percent of the pledges given in the 100 day programme. A highlight of this programme was that majority of the relief were given to low income and middle class families.
Among the proposals already implemented are the public service salary increase, Rs 3,500 allowance to pensioners, increasing Samurdhi Allowance by 200 percent, maintaining a guaranteed price for paddy, tea rubber and potatoes. Reduction of prices of 16 essential items including fuel and gas have helped to bring down the cost of living of the people. Enhancing the Mahapola scholarship to Rs 5,000 and granting of a nutrition package to expectant mothers are also in progress.
The other proposals already implemented are the increase of interest paid on deposits made by senior citizens in state banks to 15 percent for the first Rs 1 million, launching a special family security scheme for Sri Lankan's employed abroad, writing off interest payments and fines on mortgaged gold jewellery and other items to the value of Rs 200,000, creation of free Wi-Fi zones for the benefit of youth, simplified loan scheme small and medium scale industrialists, increasing the free health vote from 1.8 percent to 3 percent of the budget, provision of essential drugs to state hospitals to present any shortage and keeping OPDs in state hospitals open till 10 pm daily.
The government during its 100 day programme has also set up a special task force to apprehend drug dealers, increased the health warning pictorial advertisement to 80 percent of the pack of cigarettes, exempted war heroes from engaging in menial duties below their dignity like sweeping roads and cutting and cleaning drains, established civil administration in the North and South and a diplomatic service free of politicization as well as many others.
The balance 15 percent proposals are also in the final stages of implementation.
(Government News Portal)