Sri Lanka Has Achieved a Lot, Korean Envoy Tells President Rajapaksa
Posted by Editor on April 22, 2014 - 2:44 pm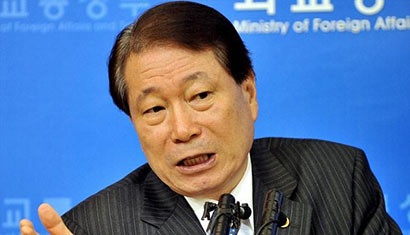 During a meeting with President Mahinda Rajapaksa yesterday (April 21) evening at Temple Trees, Special Envoy and former Minister of Foreign Affairs of the Republic of Korea Mr. Yu Myung-hwan said, "Sri Lanka has achieved a lot" since the war ended.
"The integration of former LTTE soldiers and the very swift return of internally displaced persons" are two examples Mr. Myung-hwan cited as the post-war progress that can be seen in the country. He further stated that the government is to be commended for conducting the first ever election to the Northern Provincial Council in a free and fair manner as well as establishing the Presidential Commission on Missing Persons.
President Rajapaksa said he is waiting for the report of the Commission to consider what further action may be required. The President also encouraged the visiting special envoy to visit the Northern Province.
"You should visit that area to see the development," President Rajapaksa said. "We gave more preference to the North in development than the South."
Mr. Myung-hwan reiterated his government's support to Sri Lanka and its commitment to maintaining strong bilateral relations.
"We will do our best to help your government to develop," he said
Secretary of the Ministry of External Affairs Mrs. Kshenuka Senewiratne was present at the meeting.
(President Media)
Latest Headlines in Sri Lanka