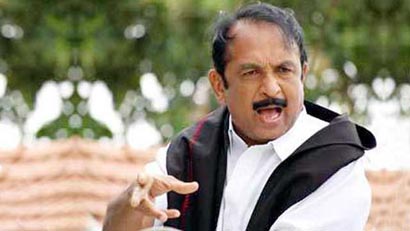 The NDA's Virudhunagar candidate and MDMK chief Vaiko on Monday claimed that the DMK candidate for the same seat, S Rethinavelu, had links with the Sri Lankan President Mahinda Rajapaksa for around a year.
Vaiko was campaigning in Sattur. While seeking support of the people at Mukkuranthal, he claimed that Rethinavelu had connections with Rajapaksa for around a year and they had even feasted together.
He questioned former DMK minister K K S S R Ramachandran if he was acting as a broker for the meetings. Vaiko also questioned if DMK patriarch M Karunanidhi supported this 'brokerage'.
Vaiko added that once the election was over and Narendra Modi became the prime minister, he would probe into the issue and would table a report about their relationship. – ENS