Sri Lanka hold their nerve to reach semi-final
Posted by Editor on June 18, 2013 - 8:07 am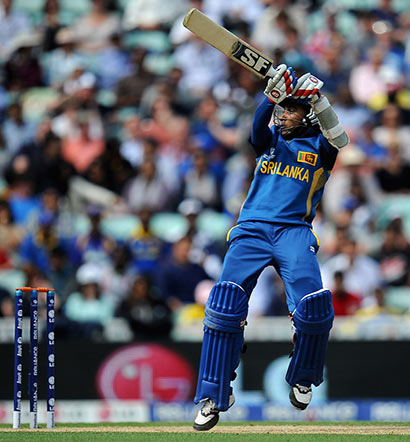 Sri Lanka 253 for 8 (Jayawardene 84*, Thirimanne 57, Johnson 3-48) beat Australia 233 (Voges 49, Kulasekara 3-42) by 20 runs
A victorious Sri Lanka will play in Cardiff on Thursday. A humbled Australia will start pondering the Ashes, and the state of disrepair their cricket has fallen into. Led by Mahela Jayawardene's silken unbeaten 84, Sri Lanka stuttered into a Champions Trophy semi-final against India by defeating a collective whose captain Michael Clarke watched disconsolately from The Oval balcony.
Their slim chances of qualifying long since expired, Australia offered a last gasp via Clint McKay and Xavier Doherty, who added 41 for the final wicket. They were only separated by a blinding return catch from Tillakaratne Dilshan, whose exultant celebrations underlined the anxiety that had crept into a team who looked comfortable winners for most of the journey.
Once Jayawardene had lifted Sri Lanka to 253 for 8 after an uncertain beginning, passing 11,000 ODI runs on the way, Australia's chances of qualifying became largely theoretical. India in their pomp might have been a chance to reach 254 in 29.1 overs, but not a team that had failed to top 250 in two previous matches and been distracted by all manner of off field woes, from Clarke's fragile back to David Warner's choices of drinking spots and punching bags.
This left Angelo Mathews' team to ride out a brief spell of hitting from Glenn Maxwell, a doughty rearguard from Adam Voges, and a pesky last stand by the final wicket pair of McKay and Doherty, who conjured the second best partnership of the innings. As in India earlier this year, this served mainly to expose the appalling lack of application shown by many of the batsmen.
Australia's troubles were best summed up by their stand-in leader George Bailey, who dozed off at the wrong moment and found himself run out, helping to end a Champions Trophy defence that never really began. Apart from the emergence of James Faulkner they have precious little to show for the past two weeks.
Sri Lanka's innings had flirted with mediocrity in the face of some diligent bowling until Jayawardene's delayed arrival, which signalled a late innings surge. Lahiru Thirimanne had been promoted ahead of Jayawardene at an uncertain 20 for 2, and the switch allowed the senior man to make merry in the later overs against the older ball after Thirimanne composed an important, steadying 57.
Given the scenario confronting them, Australia's batsmen were forced to play on instinct, and Shane Watson's cover drive from the first ball of the innings made for a promising portent. But as has become the norm Watson flattered to deceive, bowled in the second over when making a hare-brained attempt to cut Nuwan Kulasekara off the stumps.
Phillip Hughes showed himself adept at edging past the bails, twice gaining boundaries in those fortuitous circumstances. But the use of only half the bat did not suggest permanence, and it was no great surprise when he glided Kulasekara into Kumar Sangakkara's gloves.
Having come in at No. 3, Maxwell offered entertainment, cracking five boundaries and one six in the manner that earned him his exorbitant IPL contract. But Sri Lanka always had Lasith Malinga to use in case of emergencies, and he duly yorked Maxwell in his first over after the Victorian had swung once too often.
Bailey has been a middle order resuscitator of sorts in the two previous games, but the team has not responded fruitfully enough to his leadership. He was to slip up badly here, dawdling in mid-pitch when trying to pinch a leg bye and finding himself run out at the non-striker's end by Kulasekara's direct hit.
The innings then petered out in a manner sadly familiar to those who have watched Australia away from home in recent months. Only Doherty and McKay gave the impression they genuinely cared to win the contest, something not so surprising when observing the recent record: they have not won overseas in an international match in any format this year. Quite apart from the problems unearthed by Warner's Birmingham misadventures, this is no trend to take into an Ashes series.
Overcast skies and a desire to know his eventual target had encouraged Bailey to send Sri Lanka in. Mitchell Johnson's first two deliveries of the match were poor; the first clattered to the backward point boundary, the second scuttling to fine leg off the pads. But his third was straight and too quick for Kusal Perera, who was clearly lbw.
Sangakkara hinted at the genius that had guided Sri Lanka to a stirring chase against England on this ground last week, but found himself tied down by McKay's persistent line and subtle movement. Having already chanced a desperate single, Sangakkara was offered a fraction of extra width and lashed out, but managed only to slice a drive to Maxwell.
At that moment Australia could envision a slim target, but Thirimanne was sent in to steady the innings in Dilshan's company, leaving Jayawardene in reserve. A serviceable job was done, gaps found every now and then the Australian bowlers were not gifted any wickets. It took Doherty to split them with a ball that straightened just enough to take an edge, Watson diving alertly to his right at slip.
Mathews played a halting innings in Jayawardene's company before losing his off bail to a nicely pitched delivery from Faulkner, but Dinesh Chandimal was busier and more effective in a fifth-wicket stand of 65 in 56 balls. The Australians did not bowl too much that was loose, but were left to marvel at Jayawardene's knack for manipulating the field as the score mounted.
In what is becoming a pattern as familiar as Australian defeat, the wicketkeeper and agitator Wade became embroiled in a profane joust with Jayawardene. Ninety-nine Sri Lankan runs from the final 13 overs meant the Australians could start thinking less about niggle and more about the Test matches to come.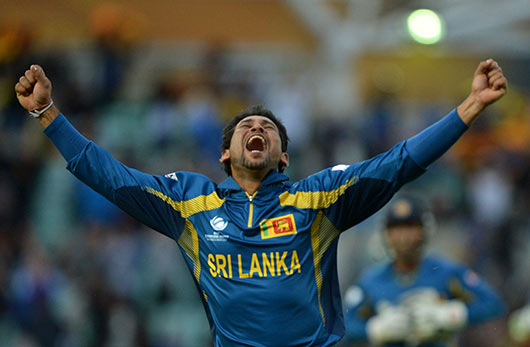 ESPN CricInfo
Latest Headlines in Sri Lanka