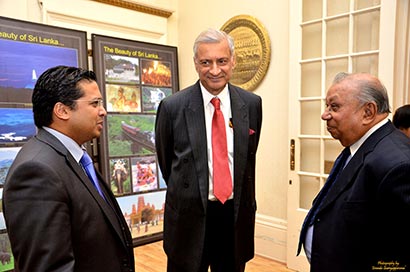 A two-day photographic exhibition capturing in graphic detail Sri Lanka before and after the 30-year conflict attracted a wide cross-section of foreign and local dignitaries.
Held at the Sri Lanka High Commission in London the exhibition was viewed by parliamentarians from the House of Commons, House of Lords and the European Parliament, leading Buddhist monks in the UK, London-based diplomats, Foreign and Commonwealth Office officials and from Commonwealth institutions, public figures and the Sri Lankan community.
Among the attendees was Kamalesh Sharma, Secretary-General of the Commonwealth Secretariat who was in Sri Lanka recently during the Commonwealth Parliamentary Association's Annual Conference.
The photo-exhibition graphically conveyed the various acts of terrorism of the LTTE and the enormity of the damage and destruction caused across the country. During that tragic period the LTTE gunned down or blasted several dozen Sri Lankan leaders including Tamil politicians and intellectuals.
A dramatic contrast was the photographs on the first floor which moved away from the mayhem of the LTTE to the benevolent socio-economic developments in the post-conflict years.
Sri Lankan High Commissioner Dr. Chris Nonis described the pictures taken in real time, showing  the  military engaged in a major humanitarian effort rescuing thousands of Tamil civilians from the clutches of the LTTE and engaged in reconstruction .
Other pictures conveyed the giant strides taken by President Mahinda Rajapaksa's government to rebuild and reconstruct ravaged areas with modern infrastructure as part of the effort at social and ethnic reconciliation which peace has brought to the land.
The photo-exhibition was arranged by Sudath Silva, the President's Director of Photography and officials of the Presidential Secretariat along with officers of the Sri Lanka High Commission, UK.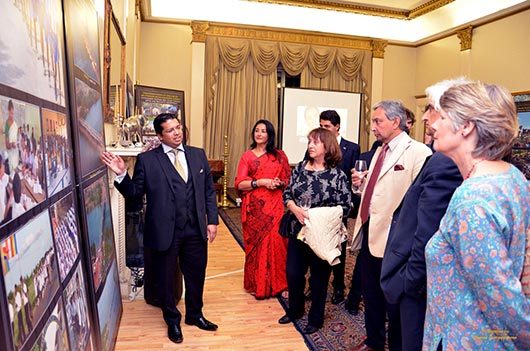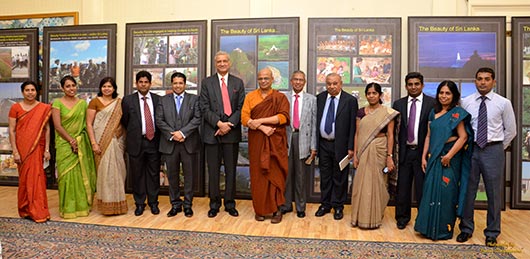 The High Commission of Sri Lanka
London
26th September 2012