Sri Lanka, India join hands to teach English in schools
Posted by Editor on September 14, 2011 - 11:22 am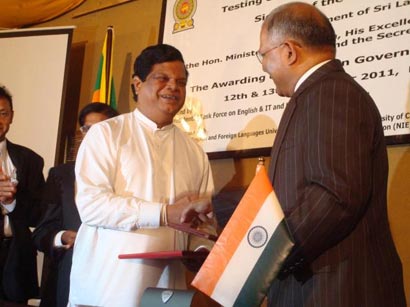 Indian High Commissioner to Sri Lanka Ashok K.Kantha and Sri Lankan Minister for Education Bandula Gunawardhana exchanging documents in Colombo on Tuesday. Photo: R.K. Radhakrishnan
Sri Lanka and India have come together in a major initiative to expand teaching English in schools in this country.
Though launched in 2009 after President Mahinda Rajapaksa declared 'English as a Life Skill,' the joint initiative, which has reached out to about 23,000 teachers, will be expanded in a major way with the signing of a Memorandum of Understanding on Tuesday.
"We remember with gratitude that the first country that came forward to offer both technical and material assistance for the success of the Presidential initiative on English was India," said Sri Lankan Minister for Education Bandula Gunawardana, after he inked the MoU with High Commissioner to Sri Lanka Ashok K. Kantha.
As part of the MoU, India will train 40 Sri Lankan English Teachers in the first batch, who will be the master-trainers for teachers. The teachers will travel to Hyderabad-based English and Foreign Languages University, on the Indian Technical and Economic Cooperation scholarship. India will help in establishing nine Centres for English language training — one in each of the provinces.
Soon after the ceremony, Mr. Kantha and Mr. Gunawardana were working on sorting out the remaining formalities, to enable the teachers to travel at an early date. The Sri Lankan Ministry had already selected the teachers, and was working on their visa request papers. Mr. Kantha assured that the visa process would be fast-tracked.
Mr. Gunawardana wanted India to help expand the programme using distance learning and e-learning techniques, and wanted India to help establish English libraries in the nine centres.
Courtesy: The Hindu
Latest Headlines in Sri Lanka