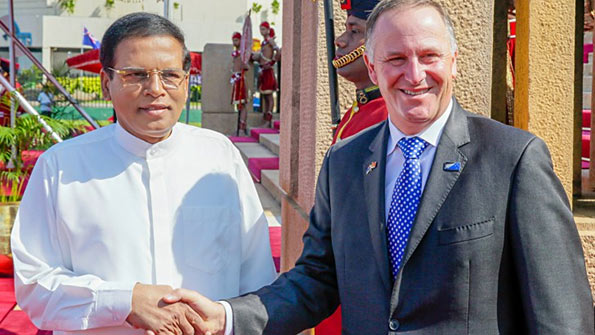 Prime Minister of New Zealand John Phillip Key described Sri Lanka as the 'Shining Light of Asian Region'. He said there are enormous opportunities available in Sri Lanka for New Zealand entrepreneurs and investors.
Delivering a media statement after conclusion of bilateral discussions with President Maithripala Sirisena at the Presidential Secretariat today (February 24), he said that he first visited Sri Lanka in 2013 for the Commonwealth Summit and in the current visit he personally noticed the vast transformations taken place in the country. He commended President Sirisena for the progress made during the short period and wished Sri Lanka well for the challenges the country has to face and expressed confidence that Sri Lankan leadership is capable of facing those challenges. He made a special reference to strengthening of democracy and the government's attempts to eliminate corruption.
Prime Minister Key said as agricultural nations New Zealand and Sri Lanka could enhance cooperation in that field. He added that his government would assist the dairy sector in Sri Lanka and said a Dairy Production Institution will be set up in Sri Lanka and that would help transfer of technology, ideas and know-how to Sri Lankan farmers. "We want to help your farmers to be wealthier and we have no plans to take over their work," he said.
Prime Minister Key thanked President Sirisena for the gift of a second baby elephant to New Zealand and said the first baby elephant gifted by Sri Lanka is now a 700 kilogram heavy strong elephant and it is a major attraction for children visiting the zoological park.
The delegation of Prime Minister Key included several important ministers and key officials and a trade and business delegation.
(President's Media)