Sri Lanka opposition demands anti-graft chief's sacking
Posted by Editor on April 22, 2015 - 8:47 am
Sri Lanka's main opposition demanded Tuesday the country's anti-graft chief be sacked for summoning former president Mahinda Rajapakse to answer bribery allegations amid renewed uproar in parliament.
Opposition lawmaker Bandula Gunawardane told parliament the director general of the Commission to Investigate Allegations of Bribery or Corruption, Dilrukshi Wickramasinghe, should be dismissed for her "arbitrary action".
Wickramasinghe has summoned Rajapakse to appear on Friday following a complaint that he paid a bribe of more than 600 million rupees ($4.6 million) to a lawmaker from the then-opposition to defect ahead of the presidential election in January.
"Today, 113 lawmakers signed a petition asking the speaker to take action to remove Dilrukshi Wickramasinghe," said Gunawardane, who is from Rajapakse's faction.
New President Maithripala Sirisena has launched a series of corruption investigations against Rajapakse's inner circle since ousting him at the election after a decade in power.
Rajapakse's opposition disrupted parliament for a second day over the summons, holding up passage of Sirisena's promised reforms to roll back the president's powers, which were strengthened during the former strongman's rule.
Hundreds of Rajapakse supporters blocked a main road to parliament, demanding investigations against him be dropped.
Speaker Chamal Rajapakse told parliament that investigators would now visit the former president, rather than insisting on him appearing before the commission on Friday to answer questions.
After calling snap elections, Rajapakse was defeated by his former ally, largely due to voter anger over corruption and cronyism claims.
But Rajapakse's party and its allies still hold a majority in the parliament.
Leader of the house Lakshman Kiriella withdrew a political reform bill that was due to be taken up Tuesday and said it would now be re-presented next week. Parliament was also adjourned till Monday.
However, Sirisena has promised to dissolve parliament and call a general election as early as Thursday in a bid to strengthen his numbers in parliament and bolster his mandate for sweeping democratic reforms.
There was no immediate word from the government if Sirisena would stick to his original schedule.
Rajapakse's former defence secretary brother Gotabhaya, widely seen as the main power behind the former president, has also been summoned to the anti-graft panel this week, but he has reportedly asked for more time to prepare.
A court has already slapped a travel ban on Gotabhaya while an arrest warrant has been issued for another brother, former economic development minister Basil, who fled the island soon after the election defeat.
(AFP)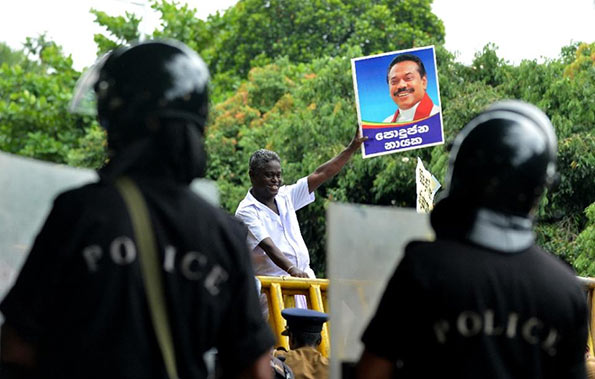 Latest Headlines in Sri Lanka