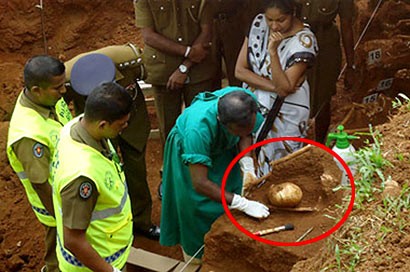 – Submitted Walter Jayawardhana –
COLOMBO: Sri Lanka's president on Sunday ordered an investigation into a mass grave dating back to a period when thousands of people disappeared during a crackdown on Marxist rebels, his spokesman said.
Mohan Samaranayake said President Mahinda Rajapakse will in the next two days announce an expert panel to probe the grave where over 150 skeletal remains were found at the central town of Matale last November.
"This inquiry will be in addition to ongoing police investigations," Samaranayake told AFP.
Forensic experts last week confirmed that the grave discovered during building work could not be older than 1986 and not newer than 1990, and placed it within a period when the then-government led a crackdown on leftist rebels.
The Marxist JVP, or People's Liberation Front, had said their members who were tortured and extra-judicially executed had been buried at the site and have pressed for a thorough investigation.
The authorities initially said it was a burial site for those who died at an adjoining hospital during World War II. However, the forensic report last week drew fresh attention to the site.
Thousands of people disappeared during the JVP-led uprising between 1987 and 1990. Sri Lankan authorities have said that nearly 17,000 people were killed during the insurgency, a figure which includes rebels and their victims.
Government forces had crushed the rebellion by wiping out its entire political leadership by the end of 1989 and mopped up remaining activists by early 1990.
However, the JVP slowly re-emerged in 1994 and has since renounced its armed struggle and entered mainstream politics.
The insurgency by the mainly Sinhalese JVP was unrelated to the separatist campaign in the northeast by Tamil rebels. The Tamil rebels were crushed by government forces in a no-holds-barred campaign which ended in May 2009.
Sri Lanka faces allegations of war crimes over the alleged killing of 40,000 civilians in the final stages of the Tamil war, a charge the government denies.
The country's rights record has also been marred by charges of extra-judicial killings in the 1970s and 1980s.
(Courtesy Times of India)