Sri Lanka President is to appoint five more ministers
Posted by Editor on April 26, 2010 - 2:33 am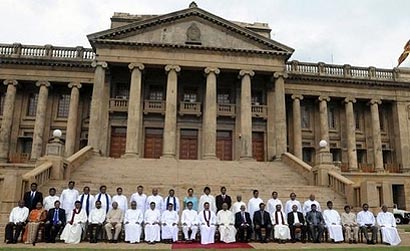 In the wake of last Friday's swearing in of Cabinet Ministers and Deputy Ministers, President Mahinda Rajapaksa is expected to appoint five more ministers to his cabinet, sources confirmed to Asian Tribune.
It is learnt that the president had been discussing matters with his advisors on the appointment of five more cabinet ministers.
Asian Tribune reliably learns that the President hopes to appoint the leader of the LSSP, Professor Tissa Vitharana to the cabinet. Professor Vitharana held the post of Minister of Science and Technology during the previous term.
There is also discussion of appointing Dr. Sarath Amunugama, Keheliya Rambukwella and S.B. Dissanayake in the cabinet. It is yet not clear as to what portfolios will be given to the three members of parliament in the Kandy district.
The President is due to make the arrangements soon after he arrives to Colombo after attending the 16th SAARC summit in the Bhutanese capital of Thimpu this week.
The President who won clear majority in the parliamentary elections had kept to his promise by drastically reducing the number of ministers. Despite the government's plans to appoint five more cabinet ministers, it will still be far lesser than the previous cabinet.
President Rajapaksa appointed 37 cabinet ministers and 39 deputy ministers on Friday at the Presidential secretariat. The previous Cabinet comprised 51 Ministers, 39 non- Cabinet Ministers and 19 Deputy Ministers.
President Rajapaksa has retained key ministries such as the ministries of Defense, Finance & Planning, Ports & Aviation and Highways.
– Asian Tribune –
Latest Headlines in Sri Lanka