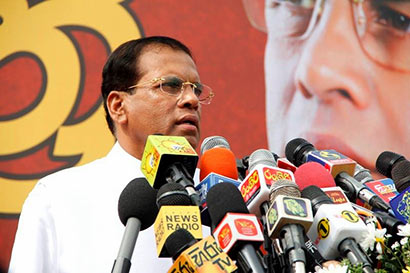 Maithripala Sirisena, who is challenging Mahinda Rajapaksa's bid for a third term as Sri Lanka's president, will cancel a casino licence given to Australia's Crown Resorts Ltd if he wins the vote, his party's manifesto said.
With an eye on the votes of Buddhists opposed to the casinos, Sirisena's New Democratic Front said it would also cancel a licence given to Sri Lanka's most valuable listed company John Keells Holdings if he comes to power in the Jan. 8 election.
The promises were part of a manifesto released on Friday that also included commitments to extend farm loan waivers and lower fuel prices, populist measures aimed at eroding Rajapaksa's ethnic and rural support base.
Sirisena quit as Rajapaksa's health minister in November to run as an opposition candidate.
Rajapaksa was revered in Sri Lanka after ending the Indian ocean island nation's 26-year-old civil war. He is still seen as the election frontrunner, but in recent years has faced public disgruntlement at high prices, allegations of corruption and nepotism.
Western nations have piled pressure on Rajapaksa and his brothers – also in government – over allegations of war crimes as the army crushed the Tamil Tiger separatists, as well as ongoing rights abuses.
Sirisena's party said he would establish independent commissions to secure the impartiality of the judiciary, police and other public services, and crack down on corruption to boost growth.
"The extent of corruption in Sri Lanka in the last few years is unprecedented and unheard of," Sirisena said in the manifesto.
"I would achieve for the country 10 times the development that actually occurred during the past six years," he wrote.
Rajapaksa awarded Australian gambling tycoon James Packer's Crown Resorts Ltd a licence in 2013 to build a $400 million mixed-use resort including a casino.
Casino opponents believe they will lead to a boom in prostitution and damage values and culture in the mainly Buddhist island nation.
Sirisena has gained support in urban areas as well as from ethnic minority Tamils, Muslims and Christians. The main opposition United National Party supports him.
In a separate brochure, Sirisena said his government will deal with war-crimes allegations through an independent mechanism and purge the foreign service within the first 100 days of coming to power.
(Reuters)