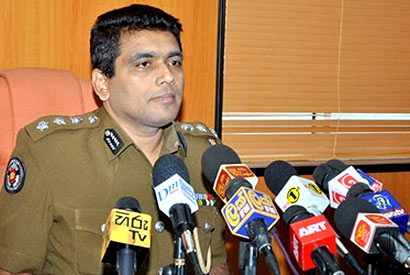 Police said they are contemplating action under the provisions of the Police Ordinance against the Wanduramba Police Station OIC for an act of cowardice in failing to prevent Deputy Minister Nishantha Muthuhettigama from forcibly freeing three suspects who were in Police custody.
The three men were taken in on suspicion that they had set fire to the stage that had been erected for Presidential candidate Maithripala Sirisena to address a rally at Wanduramba in the Galle area last week.
Police Media Spokesman SSP Ajith Rohana told the Sunday Times that the Deputy Minister's act of freeing the suspects who were in police custody was an act of abduction. "Had the vehicle met with an accident and the three suspects died, the police would have been blamed for it," he said.
The incident took place at the Wanduramba police station a few days ago when the three suspects were taken out of the police lock up in the presence of the OIC, to be taken to the Magistrate's Court in connection with the arson incident. The suspects were to be produced in court that day.
It was at this stage that Deputy Minister Muthuhettigama appeared at the police station and having freed the three suspects ordered them to get into his vehicle and drove away to the bewilderment of the OIC and policemen who witnessed the incident.
Thereafter the OIC and policemen had followed the deputy ministers vehicle in their vehicle when it arrived at the Magistrate's Court.
According to SSP Ajith Rohana an ASP from the Galle Police station is conducting an investigation into the incident. He further said that the Police will not hesitate to take action against the deputy minister in connection with the incident when investigations into the incident are completed.
(The Sunday Times)