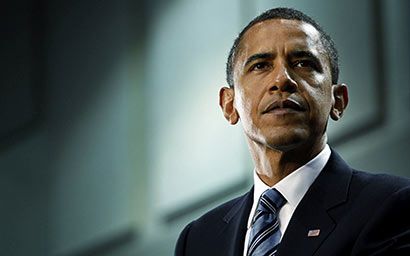 US President Barack Obama praised Friday Sri Lanka's "successful and peaceful" presidential elections and congratulated the outgoing administration on a "swift and orderly transfer of power."
"Beyond the significance of this election to Sri Lanka, it is also a symbol of hope for those who support democracy all around the world," the president said in a statement.
President Mahinda Rajapakse, Asia's longest-serving leader, conceded defeat in Sri Lanka on Friday, after a bitter campaign in which he faced allegations of corruption and a failure to bring about post-war reconciliation.
"I congratulate the people of Sri Lanka on the successful and peaceful conclusion of Sri Lanka's presidential election and incoming President Maithripala Sirisena on his victory," Obama said.
"I also commend the outgoing administration of former President Mahinda Rajapaksa for facilitating a swift and orderly transition of power."
The US leader highlighted the relatively violence-free voting process, which was monitored by international and domestic observers.
"Sri Lankans from all segments of society cast their ballots peacefully, and the voice of the people was respected.
"At this moment of hope, the United States looks forward to deepening its partnership with the people and government of Sri Lanka and to working with President Sirisena to advance peace, democracy, and prosperity for all Sri Lankans."
Despite sporadic campaign violence including the death of one opposition party worker, the vote passed off largely peacefully.
(AFP)