I will not contest for a second time- the President
Posted by Editor on January 10, 2015 - 8:27 am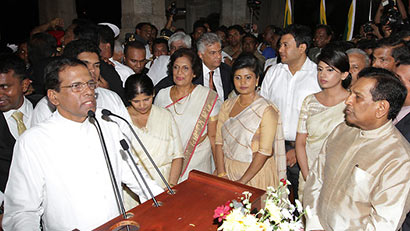 Newly elected President Maithripala Sirisena says he will not contest for another term. Addressing the nation soon after being sworn in as the sixth President of Sri Lanka Maithripla Sirisena vouched he has no intention to run for a Presidential Election for the second time at the end of his first term.
While thanking people of the country for electing him, President Sirisena reiterated his commitment to bring social, economic and political reforms to the country as pledged by his 100-day programme.
Stressing the need of having free media in the country, he also promised to bring in an ethical culture to state media.
President Sirisena extended special thanks to Election Commissioner and his staff for holding a free and fair election, UNP for assisting the process of selecting him as the common candidate, JHU and JVP for the special role they played in the election process and former President Chandrika Kumaratunga for her role.
He also praised and thanked former President Mahinda Rajapaksa for steps taken to ensure smooth transfer of powers.
(Ceylon Today)
Latest Headlines in Sri Lanka