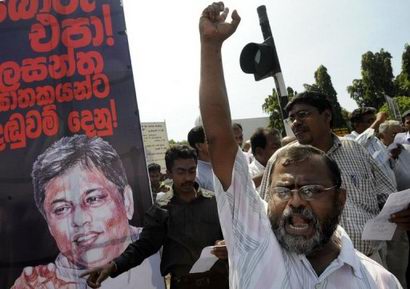 COLOMBO (AFP) – Sri Lankan police are to question dozens of military intelligence officers in connection with the internationally condemned assassination of a senior editor, a spokesman said Tuesday. Investigations into the January 2009 slaying of Lasantha Wickrematunga, chief editor of the anti-establishment Sunday Leader, had led them to military personnel, said police spokesman Prishantha Jayakody.
Sri Lanka's opposition and rights groups had blamed the government for the killing of Wickrematunga, a staunch critic of the military campaign that eventually led to the crushing of the Tamil Tiger rebels last year.
President Mahinda Rajapakse has denied that his administration was behind the murder, which was condemned by the US, the United Nations, European Union and both local and international rights groups.
The privately run Sinhala-language Divaina newspaper said the head of the military intelligence unit, a major general, was already in police custody and being questioned.
The military declined comment.
Wickrematunga was last month named one of the 60 World Press Freedom Heroes by the Austria-based International Press Institute (IPI).
The IPI said 17 journalists were killed in Sri Lanka because of their work over the last decade. Two were killed in 2009. No one has been brought to justice in connection with any of the killings.