Sri Lanka protests cripple health services, dent investor sentiment
Posted by Editor on April 8, 2017 - 8:12 am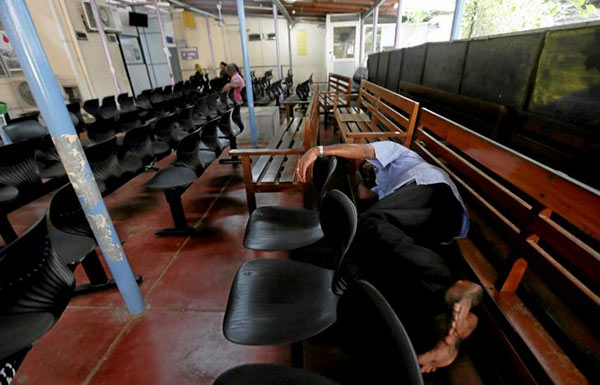 An island-wide protest on Friday by Sri Lankan doctors demanding closure of a private medical college crippled the health services, leaving thousands of patients unattended and threatening the investment climate.
Hundreds of doctors and thousands of medical students protested on Friday after the government refused to close the island's only private medical college, despite months of agitation by doctors and undergraduates.
Doctors trained at the state-run medical colleges have long been demanding the closure of the school, which the privately owned South Asian Institute of Technology and Medicine (SAITM) was allowed to open in 2008.
The authoritarian government at the time barred any protests against it. Since a new government came to power in 2015, doctors and medical students have taken advantage of their new freedom to hold protests and demand that SAITM be closed.
The protesters on Friday blocked a main road in Colombo for several hours, creating a huge traffic jam, and waved banners saying the private university sold education for profit and should be nationalized.
Normally busy outpatient units were quiet and some patients who had arrived from far away were spieling on lonely benches at Colombo hospitals.
Sunil Abeyratne, a patient who had visited Colombo's main hospital from Ambalangoda, 50 kilometers (32 miles) away, said the protest was unfair and doctors has made his life difficult.
The Government Medical Officers Association (GMOA) warned there could be more strikes.
"If the government does not respond positively, we will have to consider more strong trade union action in the future," said Nalinda Herath, the secretary of GMOA.
Analysts said the delay in resolving the issue will dent the island's investment climate.
"How long this issue will prolong and the government's inability to resolve (it) will certainly impact the investors' confidence and investment climate," said Anushka Wijesinghe, chief analyst at Ceylon Chamber of Commerce.
The government said on Friday that it proposes to take over a hospital run by SAITM and to allow its students to train at state hospitals, but did not say if they would stop SAITM from admitting new students.
Prime Minister Ranil Wickremesinghe's center-right United National Party (UNP), which is in a coalition with President Maithripala Sirisena's center-left Sri Lanka Freedom Party (SLFP), has promised to revive the economy with major foreign direct investments.
These investments slumped by 54 percent last year to what the government called "extremely low by any standard" as inconsistent tax and economic policies discouraged foreign businesses from putting their money into the country.
(Reuters)
Latest Headlines in Sri Lanka