Sri Lanka recovers seven years after its tsunami
Posted by Editor on March 22, 2011 - 1:11 pm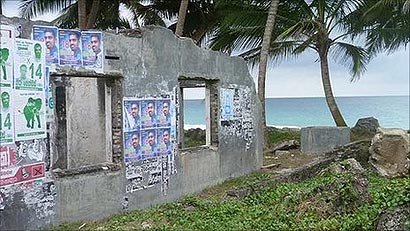 As the people of Japan live through the triple nightmare of earthquake, tsunami and the threat of nuclear disaster, those affected by the 2004 Indian Ocean tsunami feel deep sympathy.
The second-worst hit country at that time was Sri Lanka, where 40,000 people were killed.
Six years on, in many of the affected places, there is a mixture of grief and optimism.
Gazing out across the road at a blue-green sea in the hamlet of Peraliya is a giant Buddha statue.
It is a memorial to those killed in 2004, given as a gift to Sri Lanka – poignantly – by Japan.
Train horror
Just behind the monument school children walk along the railway line in the early morning sun.
This spot saw horror in 2004. A train passing by was hit by the tsunami wave. It fell, and more than 1,000 passengers died; many had climbed on board thinking it would give them refuge.
There are tsunami victims everywhere. Antony Premasiri lost his wife and his home to the wave – and now has no shelter because of a family dispute.
"I sleep here and there," he said. "I don't have a place to stay. I stay on someone's veranda or near a gate or whatever. I don't have a house. My two children are with my parents."
He swallowed a lot of seawater and was in hospital two months. Since then he has been too sick to resume his work as a fisherman.
But many people have been luckier than Antony because the resources to rebuild have come in.
A short distance inland is a neat new housing estate, built for those who lost their homes.
Free training
Most rural homes on the island are bungalows. These are different – built on two storeys. It gives people extra safety in the event of another tsunami.
A locally based charity, the Foundation of Goodness, built these donor-funded homes after consulting local people on the design.
The charity is the creation of Kushil Gunasekera – businessman, philanthropist and manager of the cricketer Muttiah Muralitharan. He comes from this village, Seenigama, and has set up its offices in his family home.
Bolstered by donations and the support of sports figures, his community rebuilding project is helping people from nearly 40 villages.
Like so many, he is distressed by the news from Japan.
"I feel absolutely devastated for the second time – in fact more so now because I think [the Japanese tsunami] was very ferocious compared to what we experienced," he said.
"We need to reach out to them the way they did for us. Because the Japanese people are very benevolent and they were very supportive at the time and it is time to give back and do the best we can.
"I think all the nations have to get together and come to their rescue."
At the charity headquarters there is a nursery school, a medical centre and free training: from basic electrics to the local art of lace-making.
'Coral mining'
Most of them lost family members or their homes in the tsunami. One elderly lady, Piyaseeli, says that once she has completed the lace course she hopes to start a business.
Mr Gunasekera describes the project as a tribute to those whose lives were lost and an attempt to help local people excel in life.
It also has facilities to train people in cricket, swimming and diving.
A small boat takes two trainees on a three-month course out to sea with their instructors. The students don wet suits and plunge into the water. Minutes later, they surface, having retrieved an iron bar from the seabed, helped by a barrel they fill with oxygen.
Many who take the course get offered commercial diving jobs even before they complete it from companies working in harbour, boat or port repairs.
Before the tsunami many young people in the area would go "coral mining" – breaking up the local coral reef to sell to builders for plaster work.
That illegal activity reduced the coastline's protection from the tsunami and has now stopped.
'New chance'
One of the trainees, NH Manuja, is a 20-year-old woman who has already won awards in the sports of karate and cricket.
She lost three sisters and a niece in the tsunami. Now she, her parents and three remaining siblings say that despite their grief, they are managing to move forward.
The diving schools, she says, is giving local youths "a good new chance, showing them how to do a better job – that's the big support the foundation has given us".
Sam Heselev, a young Australian volunteer with the charity, witnessed the tsunami.
"There's definitely a shift to a more positive outlook here – these people are looking towards the future," he said.
On the other hand, these villagers are among the lucky ones. The charity is spreading to other parts of the island but cannot reach all the tsunami-hit areas. Recovery in the more remote east has been much slower.
Mr Gunasekera says fear of another tsunami has not disappeared.
However, there are now escape routes, early warnings systems and periodic drills in the area.
And his organisation does seem to be teaching many people to live in harmony with the sea again.
BBC
Latest Headlines in Sri Lanka