Sri Lanka says China "port city" broke rules
Posted by Editor on February 19, 2015 - 7:50 am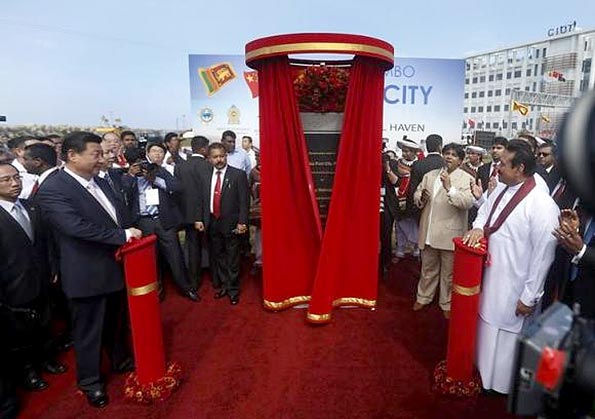 Sri Lanka's prime minister said on Wednesday a $1.5 billion luxury real estate deal with China was signed without cabinet approval and without following procedures, and launched a new investigation to uncover any corruption.
The last government entered into the deal with China, dubbed Port City, to build an offshore development on reclaimed land next to Colombo port. Critics say the details of the deal were not revealed and the environmental study not made public.
India has opposed part of the agreement that would give ownership to 20 hectares of land on a freehold basis to a Chinese state-owned company, next to Colombo port which primarily serves India for trans-shipment.
When he was in opposition, Prime Minister Ranil Wickremesinghe said he would scrap the project.
On Wednesday, he said two committees would investigate the deal after the results of an initial investigation showed irregularities, but that the government had not decided to stop the project.
"All the activities of the Port City deal were done without transparency and without following many legal procedures. The agreement was signed without cabinet approval," he told parliament.
"If there was anything against the law while signing the agreement, if there has been any corruption, if there are any conditions detrimental to the country, we will take necessary actions," Wickremesinghe said.
China is keen to ensure the safety of its investments in Sri Lanka. Sri Lanka's foreign minister will visit China next week. Sri Lanka's President Maithripala Sirisena is expected to visit China by the end of March.
A Chinese embassy official in Colombo said China acknowledged the government's decision to investigate.
"But it is an obligation of a democratic government to respect an international bilateral agreement reached with another country by the previous government," the official said.
Wickremesinghe's statement came as Sirisena, who unseated former president and close China ally Mahinda Rajapaksa in Jan. 8 polls, was on a four-day visit to India.
Cabinet Spokesman Rajitha Senaratne said on Feb. 5 the new government would allow the Port City to go ahead. However, Wickremesinghe later said the initial probe was not over.
The port city is planned on 233 hectares of reclaimed land in Colombo. Under the proposed deal, 108 hectares would be taken over by China Communications Construction Co Ltd, including 20 hectares on an outright basis and the rest on a 99-year lease.
The development would include shopping malls, water sports, golf, hotels, apartments and marinas.
(Reuters)
Latest Headlines in Sri Lanka