Sri Lanka seek revenge after first Test thrashing by England
Posted by Editor on May 27, 2016 - 6:23 am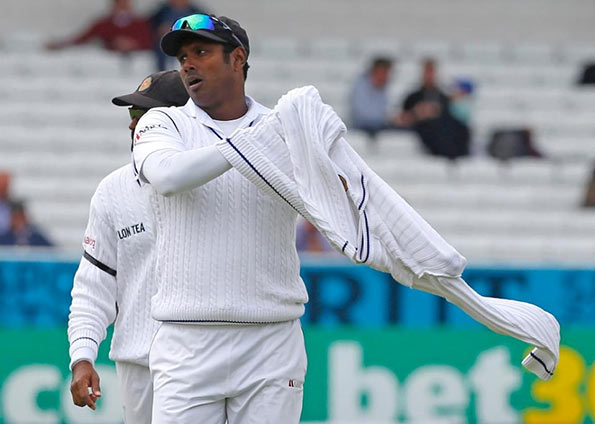 Sri Lanka captain Angelo Mathews said the "weather can be a factor but it can't be an excuse" as his side look to draw level in their Test series against England.
Mathews' men were thrashed by an innings and 88 runs in the first Test as they went 1-0 down in the three-match series at a cold and grey and Headingley ground in Leeds, northern England last week.
Similarly miserable conditions have greeted Sri Lanka in Chester-le-Street, with rain preventing any meaningful outdoor practice on Wednesday and Thursday ahead of the start of Friday's second Test at northeast county Durham's Riverside ground.
It's all a far cry from the searing heat of Colombo and Mathews, speaking to reporters on Thursday, said: "It's the coldest weather I've known playing cricket.
"It was extremely cold yesterday (Wednesday)," added Mathews, who saw his side run round the outfield with players clad in bobble hats and several sweaters.
"Today it's a bit better, and I'm hearing it will stay that way for the next three days."
More than the actual temperature, it was the overcast conditions which aided swing movement and were superbly exploited by England spearhead James Anderson, who had match figures of 10 for 45, that proved Sri Lanka's undoing in Leeds.
A pitch with a tinge of green also helped Stuart Broad, Anderson's new-ball partner in crime, to seam the ball off the surface at Headingley, where all-rounder Mathews's Test-best 160 set up Sri Lanka's series-clinching win two years ago.
Similar conditions could well lie in wait at the Riverside, but Mathews is determined there won't be a similar outcome.
"The weather can be a factor, but it can't be an excuse … you have to compete, regardless of the conditions," Mathews said.
"When they (England) come out to Sri Lanka it's going to be hot and yes they struggle, but you have to compete regardless of the conditions.
"You can't control the weather, but we can try to control our performances.
"It was an embarrassing defeat. We've had a few days to think about it, and talk about strategies.
"We have to forget Headingley. That's simple, the first thing we have to do.
"The more we think about it, the more disappointed we get.
"Obviously, you can't erase it — but we have to move on. That's what we'll do.
"Tomorrow is going to be a fresh start. To stay alive in the series, we have to win.
Mathews added: "It's a mental adjustment we need, and I hope the boys will be fine."
– Mendis character –
The Sri Lanka captain took some heart from 21-year-old top-order batsman Kusal Mendis's battling fifty in the second innings at Headingley.
"It's his first time in a Test in England, and he showed a lot of character when the ball was seaming and swinging around," said Mathews. "It says a lot about the player.
"He can take a lot of encouragement out of that, and so can the rest of the batters."
But Mathews admitted that facing Anderson and Broad, who have taken a combined 646 wickets in 84 Tests as a pairing, in helpful conditions was no easy task.
"They are world-class bowlers, especially in these conditions."
Despite their ultimately heavy defeat, Sri Lanka did reduce England to 83 for five at Headingley.
And Mathews was adamant they could win at the Riverside and end England's perfect run of five wins in as many Tests at the ground.
"It's definitely possible," said Mathews. "If we play to our potential, and don't think about the weather too much…We have the skill and the talent."
(AFP)
Latest Headlines in Sri Lanka