Sri Lanka skipper hails attending Bollywood stars
Posted by Editor on June 4, 2010 - 2:29 am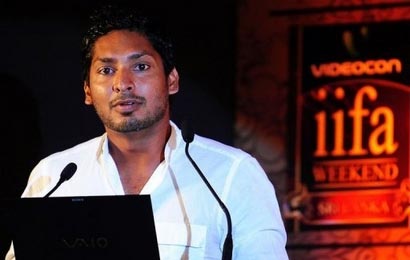 COLOMBO (AFP) – Sri Lanka's cricket captain Thursday applauded the "courage" of stars attending the annual Bollywood film awards being held this year in Sri Lanka despite a boycott call by the Tamil cinema industry.
Kumar Sangakkara said the Bollywood celebrities who have already arrived in Colombo for Saturday's glitzy Indian International Film Academy (IIFA) awards had refused to bow to outside pressure.
"I applaud you for your courage and commitment and standing by the ideals of IIFA," Sangakkara told reporters.
The film industry in the Indian state of Tamil Nadu, which shares close cultural and religious links with Sri Lanka's ethnic Tamil minority, is calling for stars to stay away from the Colombo awards.
The Tamil Nadu lobby argues that holding the IIFA awards in Sri Lanka amounts to an endorsement of President Mahinda Rajapakse's military strategy that crushed Tamil Tiger rebels last year after decades of bloodshed.
The United Nations has reported that at least 7,000 Tamil civilians perished in the final months of fighting.
Sangakkara, who is playing a charity match with some of the Bollywood stars on Friday, said the money raised would go towards rehabilitation of former Tamil Tiger child soldiers and building homes for war-displaced Tamil civilians.
The organiser of IIFA, Wizcraft, has already dismissed the Tamil Nadu boycott call as being politically motivated. IIFA's own brand ambassador, Amitabh Bachchan, is yet to confirm his participation after he too came under pressure to stay away.
Bachchan's actor son Abhishek and daughter-in-law Aishwarya Rai — Bollywood's leading couple — are thought unlikely to attend, and megastar Shah Rukh Khan is confirmed to be staying away.
Some second tier stars, including Vivek Oberoi, Lara Dutta, Ritesh Deshmukh, Bipasha Basu, Dia Mirza and Sanjay Dutt have already arrived in the Sri Lankan capital.
Latest Headlines in Sri Lanka