Sri Lanka targets three million dogs for mass cull
Posted by Editor on January 8, 2012 - 12:09 am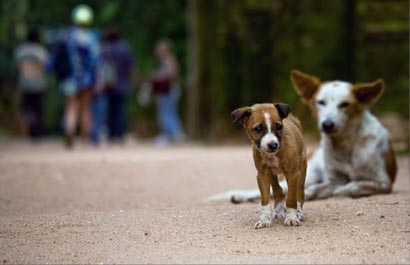 Sri Lanka has lifted a moratorium on killing stray dogs as the government attempts to cut down on the 2,000 people that are hospitalised every day after being bitten, a media report said Saturday.
Health Minister Maithripala Sirisena told the Swarnavahini television network that the government had decided to revert back to destroying strays, a practice suspended five years ago, because of rabies concerns.
"Clearly our new policy has failed…," Sirisena told the privately run network. "As a government, we have decided to go back to the previous practice."
Sri Lankan law allows the authorities to catch and kill stray animals, but a presidential order suspended the practice in 2006 following lobbying by animal rights groups.
But the health minister said stray dog populations had rapidly increased, to three million in recent years, and had become a major public health issue in an island of 20 million people.
Some 2,000 people are hospitalised daily after being bitten by stray dogs, the minister said, adding that the authorities were spending over $13 million annually to deal with the problem.
Animal rights activists said sterilisation efforts had failed because of corruption and mismanagement by public health officials.
"We want the government to reconsider this decision and ensure a humane treatment of these animals," said Sagarika Rajakarunanayake, of the Satva Mithra animal rights group.
A health ministry official said the government was going ahead with plans for a sanctuary for stray dogs in the north of the country, but rights activists said it was not a practical way to look after stray animals.
They argued that the sterilisation programme should be made more effective along with a campaign to vaccinate stray dogs against rabies.
AFP
Latest Headlines in Sri Lanka