South Africa win first home series since 2008
Posted by Editor on January 7, 2012 - 7:27 am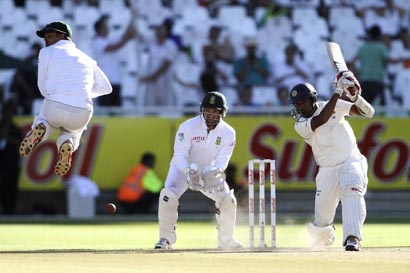 South Africa 580 for 4 decl. (Kallis 224, de Villiers 160*, Petersen 109) and 2 for 0 beat Sri Lanka 239 (Dilshan 78, Philander 3-46, Steyn 3-56) and 342 (Samaraweera 115*, Kallis 3-35) by 10 wickets
South Africa won their first home series since 2008, a period in which they had been denied on five occasions, prevailing over Sri Lanka by 10 wickets to take the rubber 2-1. An innings defeat seemed the most likely result at the start of the day, but a wicketless pre-lunch session and another century from the resurgent Thilan Samaraweera helped Sri Lanka barely avoid that ignominy.
Needing two runs to win in the fourth innings, South Africa got home without facing a legal delivery, with Dhammika Prasad over-stepping and Alviro Petersen punching down the ground to trigger relief and smiles in the home camp. Graeme Smith has now captained his side to 41 Test wins – joint second with Steve Waugh in the all-time list. Only Ricky Ponting, with 48, lies ahead.
Once again, Vernon Philander made the breakthroughs for South Africa in a passage when they were beginning to look listless. Samaraweera and Angelo Mathews had extended their overnight association to 142 runs, and were looking at ease against the second new ball, when Philander ended the fun with a double-strike. The tail slogged along merrily, while Samaraweera chiselled his way to three-figures. Jacques Kallis and Imran Tahir side-stepped his defiance, and ended the innings at the stroke of tea.
Samaraweera's effort took his series tally to 339 runs, and put to rest all doubts over his ability to handle conditions outside the subcontinent. His century was only the fourth by a Sri Lankan in this country, with three of them coming on this tour, but it wasn't enough to extend the match to the fifth day.
As on the third evening, South Africa were persistent with their lines of attack at the start of play, but the rewards were not so readily available. The closest they came to getting a wicket before lunch was when Samaraweera was stranded mid-pitch following a misunderstanding with Mathews. Petersen picked up rapidly in the covers and had a good sight of the stumps as he threw, but missed. A little later, Mathews came close to being run out, but this time Hashim Amla's throw went wide.
Barring those two scares, Sri Lanka had few concerns in the morning. Samaraweera got going with a neat flick through square leg off the day's second ball, and a couple of controlled edges through the off side. Thereafter, he settled down to wait and pick off the leg-stump offerings that came his way. He got to his fifty by steering Tahir to third man as the first hour drew to a close. Mathews' first boundary of the morning came off a thick edge that flew past the cordon, but he gradually buckled down to seal his end. Progress came through dabs and tucks, until Tahir slipped a full toss on the pads that Mathews whipped expertly to the boundary.
With the pitch slowing down and seam movement absent, Smith moved the cordon from behind the wicket to front. Armed with the old ball, Kallis sent down an energetic spell of fast bumpers, with slip, short leg, short cover, silly mid-on, and later leg slip, in place, but Samaraweera stayed firm. The gambit had failed, and it was over to Philander with the second new ball.
Sensing the pivotal moment of the day, Samaraweera took Philander on. He cracked one square, plastered another down the ground, and pulled emphatically to take three boundaries in an over. Philander persevered, though, and dispatched Mathews in his next over, with an indipper that kept low to hit the pads. Two overs later, Dinesh Chandimal perished to a lazy waft away from the body, giving Kallis his fifth sharp catch in the match, all of them in the slips. He would later come on to hold a sixth off his own bowling, to go with three wickets and a double-century. The Man-of-the-Match adjudicators had an open-and-shut case in front of them.
ESPN CricInfo
Latest Headlines in Sri Lanka