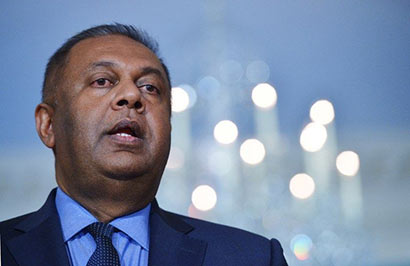 Sri Lanka's foreign minister says the country will review its China-dependent foreign policy and boost ties with other nations.
Mangala Samaraweera held an interview with NHK on Thursday. He is visiting Japan for the first time since the current government was launched under the new president, Maithripala Sirisena.
Sirisena won a presidential election in January by defeating the incumbent, Mahinda Rajapaksa. Rajapaksa promoted a foreign policy that relies on China.
Foreign Minister Samaraweera referred to Sri Lanka's relations with China. China overtook Japan as Sri Lanka's biggest source of assistance in 2009.
He indicated that Chinese aid led to rampant corruption under the previous government. He said the Sri Lankan government has suspended a project to improve port facilities in the nation's largest city, Colombo, and is now reviewing it. He added the project may not have followed appropriate procedures.
Samaraweera stressed that Sri Lanka plans to advance a balanced diplomacy that strengthens relations with all countries, including China.
The minister said Japan rose from the ashes of World War Two and became one of the most powerful nations. He said Japan provides a good lesson for Sri Lanka, which went through a civil war.
Calling Japan a consistent friend of Sri Lanka, Samaraweera called on Japan to provide more aid and private investment, NHK reports.