Ragama 'Ranaviru Sevana' Inmates Get a Surprise Visitor
Posted by Editor on June 20, 2015 - 9:58 am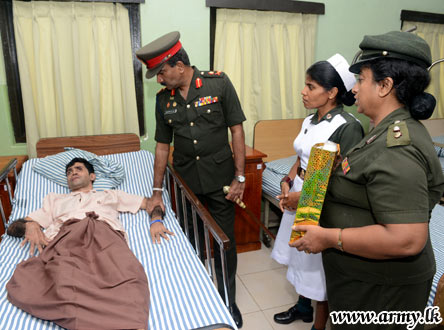 Lieutenant General Crishanthe De Silva, Commander of the Army taking time off his hectic schedule paid a surprise visit to the Ragama Ranaviru Sevana on Friday (19) afternoon where a total of 155 War Heroes are recuperating after battlefield injuries and still under rehabilitation as residential inmates.
This was the first visit undertaken by the Commander to this place of rest, recreation and rehabilitation after he assumed office as the head of the Army in February, this year.
A wheelchair-borne inmate at the Ranaviru Sevana offering a sheaf of betel warmly welcomed the visiting Commander, accompanied by Brigadier Hemantha Kulathunga, Commandant, Ranaviru Sevana.
Lieutenant General Crishanthe De Silva during his close interaction with those dependent inmates, wished them fast recovery and exchanged a couple of views with them in a friendly manner while closely inquiring into their needs and other requirements, if any. Similarly, the Commander gave away some gift parcels after talking to each and everyone, confined to beds while moving from one bed to the other in all three wards.
In the same vein, the Commander intending to further uplift standards and supplying them with better facilities during his stay inside discussed a few matters of administrative nature and raised a few inquiries, pertaining to its day today conduct of affairs and accordingly instructed the Ranaviru Sevana Commandant for their implementation.
Moreover, the Commander didn't forget to talk to all the officers serving at the Ranaviru Sevana before his exit from the venue.
Brigadier S. K. Thirunaukarisu, Director Rehabilitation was also present at the occasion.
(Government News Portal)
Latest Headlines in Sri Lanka