Sri Lanka to hold polls in ex-war zone for first time in 25 years
Posted by Editor on July 6, 2013 - 12:37 pm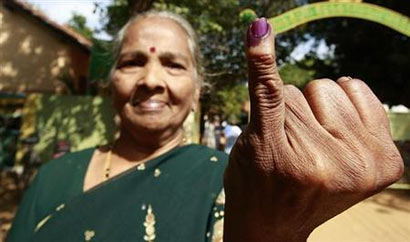 (Reuters) – Sri Lanka will hold provincial elections in the former northern war zone in September for the first time in 25 years, officials said on Friday, a move demanded by the United Nations since the end of three decades of conflict in 2009.
But Northern Province, which includes the Jaffna peninsula, has been under military control since the end of the war and the government had resisted requests by the West to pull out the army.
Ariyaratne Athugala, director general of the Department of Government Information, said President Mahinda Rajapaksa had issued the proclamation to hold northern provincial council polls.
The Elections Commission said they would probably be held on September 21 or 28.
Sri Lanka has repeatedly rejected calls for an independent, international probe into accusation of rights abuses in the final stages of the war. Tens of thousands of civilians, mostly Tamils, were killed in the final months, according to a U.N. panel.
A court on Thursday ordered that 12 elite police commandos, suspects in the killing of five Tamil students during the war, be placed again in detention.
They had been released in 2007 after more than two months in detention after legal authorities said there was no evidence to launch proceedings against them.
The United Nations Human Rights Council in March urged Sri Lanka to carry out credible investigations into killings and disappearances. The U.N. High Commissioner for Human Rights, Navi Pillay, is to visit Sri Lanka in August.
The government has said a military presence is necessary in the north to prevent the re-emergence of terrorism three years after it crushed the Liberation Tigers of Tamil Eelam (LTTE).
Successive governments did not hold provincial polls in the north because most of the territory was under LTTE control.
Sri Lanka introduced provincial councils in 1987 with a constitutional amendment aiming to ensure regional autonomy mainly for the island nation's north and east where the LTTE had fought to create an independent state for Tamils.
The constitutional amendment, which gives autonomy to provincial councils including powers over police and land, has yet to be fully implemented. (Reuters)
Latest Headlines in Sri Lanka