Sri Lanka to host the Commonwealth Parliamentary Conference
Posted by Editor on August 20, 2012 - 11:56 am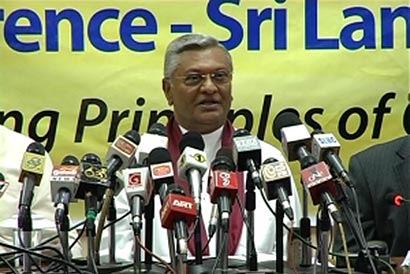 Sri Lanka will host the 58th Commonwealth Parliamentary Conference from 7th to 15th September at BMICH, Colombo.
800 representatives comprising Speakers, Deputy Speakers and MPs from 54 Commonwealth countries and 179 provinces will be attending this Conference.
Speaking at a media conference held at the Ministry of Mass Media and Information in Colombo Speaker Chamal Rajapaksa said that President Mahinda Rajapaksa as the patron will inaugurate the summit at Nelum Pokuna Mahinda Rajapaksa Arts Theatre on the 7th morning and the inaugural ceremony will be made colourful with a cultural pageant.
The Speaker said that although certain groups attempted to sabotage holding this Conference in Sri Lanka all the Commonwealth Member countries have confirmed their attendance.  He said that Sri Lanka assumed the presidency of the Commonwealth Parliamentary Union after the conference held in London last year.
The Speaker further said that several workshops and discussions will be held on many topics including empowering future generations through access to health, education and vocational training; establishment of a commission for democracy, the rule of law and human rights; the role of parliaments in relation to people; conflict resolution and peace building; threat to democracy, peace and security from terrorism etc.
Responding to a clarification about the Commonwealth Councils the Speaker said that in certain countries there are commonwealth councils represented by elected members and for instance India has 33 councils and Pakistan 5 councils. The Speaker said that initiatives will be taken to get Sri Lanka's Provincial Councils also enrolled as Members of Commonwealth Councils.
Speaking at the media conference the Deputy Speaker Chandima Weerakkody said that all arrangements have been made to hold a successful conference and even for the delegates to visit several tourist promotional areas in the country and also to facilitate visit to the Northern and Eastern provinces which would also help counter negative propaganda being carried out against Sri Lanka.
Minister of Mass Media and Information Keheliya Rambukwella said that this conference will become a major boost for tourist promotion in Sri Lanka and an opportunity to curtail anti Sri Lankan activities being carried out by pro-terrorist elements in commonwealth countries.  (niz)
Source: Government News Portal
Latest Headlines in Sri Lanka