Sri Lanka to limit the term of Presidency to 5 years – President
Posted by Editor on January 27, 2015 - 11:02 am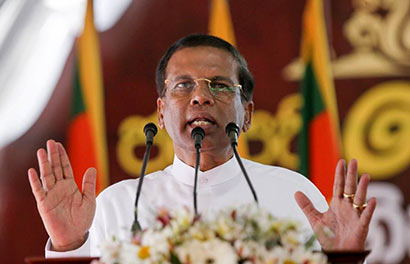 President Maithripala Sirisena  said that the term of office of the President of Sri Lanka will be reduced to five years from the original six when the new amendments to the Constitutions are proposed.
"I  wanted the terms of the Presidency be reduced to four years but the constitutional expert who are on the job now did not agree with my idea," the President said addressing a public meeting.
The President added that they later came to the consensus that the term of the Presidency should be confined to five years due to his strong insistence.
The committee comprising constitutional experts is in the process of discussing on how unlimited powers of the Executive Presidency should be vested in the Legislature.
The President was addressing public officials of the Polonnaruwa district at the Thopawewa school grounds.
"Anti apartheid hero and former South African President Nelson Mandela succeeded in bringing many reforms to that country during his four year rule after languishing in jail for over 27 years," the President said.
"My policy is to consider those who opposed me at the election as friends as Mandela did and get them involved in the process of building the country,"he said.
President Sirisena insisted that he will never offer posts to anyone in consideration of their political affiliations.
"The posts are given to individuals after considering their suitability, efficiency, honesty and qualifications only," he stressed.
President Maithripala  Sirisena  during the election campaign period through his manifest had proposed bring several reforms and  new regulations to put the house in order. The constitutional reforms, Freedom of Information Act and the stern action against large scale grafts are the main activities the new government has given priority
"The previous regime violated all basic norms practiced during an election. They breached the long held principles of free and fairness of the election at the last presidential poll," he said.
President Sirisena also said the public service faced deterioration in an unprecedented manner during the last few years. He said that the country witnessed how a political party utilized government servants for its election campaign to ensure its candidate's victory at the last presidential election. This is an unprecedented situation. No party in power has used public servants for political work to such an extent.
"The Presidential election which I contested witnessed a record in terms of election law violations. The State media was used to target me. Various campaigns were launched using the State media to insult me," he said
The President added that no party in power has used State resources and power during an election as the previous regime did.
(Government News Portal)
Latest Headlines in Sri Lanka