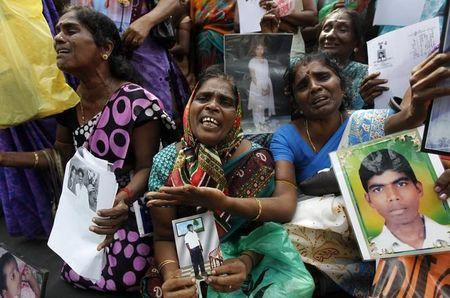 Sri Lanka will set up a special court in the next few weeks to examine alleged war crimes committed in the final phase of its 26-year conflict with Tamil rebels, a top official in charge of reconciliation said on Tuesday.
After being elected in August, the island nation's new government signalled it would accept United Nations recommendations to establish a credible judicial process involving foreign judges and prosecutors.
"The special court should start its work by the end of this month or by early January," said Chandrika Kumaratunga, who led Sri Lanka from 1994 to 2005 and now heads the reconciliation unit of President Maithripala Sirisena's government.
She told reporters the mechanism would be a domestic one but might get technical assistance from international experts.
"No reconciliation is possible without accepting the mistakes of the past. They will not be chasing behind every soldier, but the main line of command will be looked at," she said.
The Sri Lankan military, under former president Mahinda Rajapaksa, was accused of committing grave human rights abuses during the war, which ended in 2009, and in its immediate aftermath. But Rajapaksa rejected international pressure for a U.N. war crimes probe.
Sirisena unseated Rajapaksa in a bitterly contested election in January. In the August parliamentary poll, Rajapaksa lost a bid to become prime minister, and is now an opposition lawmaker.
(Reuters)