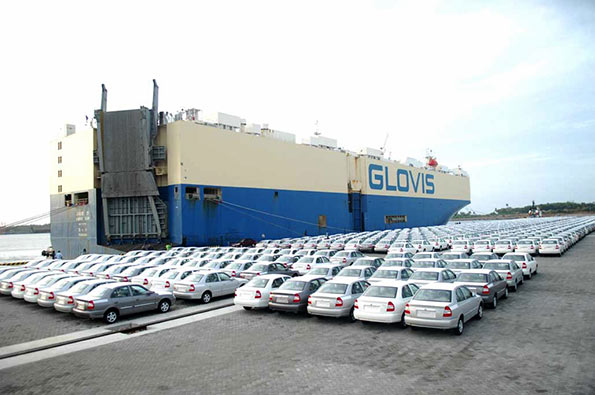 Sri Lanka's government wants a Chinese company to agree to cut its stake in a strategic port project by up to a quarter, as part of a renegotiation aimed at blunting public and political opposition to the deal.
After signing an agreement in December, state-run China Merchants Port Holdings had been expected to pay $1.12 billion for a 99-year lease on an 80 percent stake in Sri Lanka's southern Hambantota port – part of Beijing's ambitious plans to create a modern-day "Silk Road" across Asia.
But the deal – and the Chinese investment that Sri Lanka needs to ease a mounting debt crisis – has been delayed by legal and political obstacles on a related project: the development of a nearby 15,000-acre industrial zone.
In a draft agreement seen by Reuters, the Chinese firm would still hold a majority in the port, but would agree to divest up to a 20 percent stake to a Sri Lankan company after 10 years.
China has already spent almost $2 billion on Hambantota, mostly on the port close to the busy East-West shipping route and on a new airport. It plans to spend much more.
The industrial zone and the port are expected to bring in more than $6 billion in five years.
The amended deal comes after the project was delayed amid protests by trade unions, landowners and political opposition led by former president Mahinda Rajapaksa and some current coalition government ministers.
In January, hundreds of protesters refused to vacate their land and clashed with police at the opening of the industrial zone – the first violent opposition to Chinese investment in Sri Lanka.
"There were some concerns about ownership. We were able to negotiate with the Chinese company successfully," said Ranga Kalansooriya, head of the government's Information Department. "The Chinese firm said they want the controlling share… even if it was 51 percent."
Officials from China Merchants Port were not available for comment outside regular business hours, but a person familiar with the deal, who did not want to be identified as nothing has yet been announced publicly, said the Chinese firm has been informed of the stake reduction.
Sri Lanka needs to unlock the port development so it can begin to earn revenue which can be used to repay debts.
Last week, Sri Lanka's central bank governor said money coming in from the Chinese deal was crucial for boosting the island nation's reserves.
Sri Lanka is battling a twin debt and balance of payments crisis – partly due to heavy commercial loans mainly from China to revitalise war-hit infrastructure, and the flow of money out of the country as foreign investors sold government securities in the wake of U.S. Federal Reserve monetary tightening.
(Reuters)