Sri Lanka working according to a plan-Keheliya
Posted by Editor on May 30, 2012 - 5:37 pm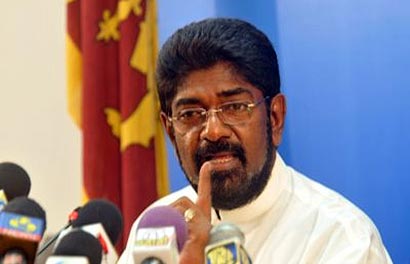 Media Minister Keheliya Rambukwella reacting to the United States call for a 'speedy and transparent judicial process" regarding the ex LTTE carders said that the Government has an action plan regarding the issue and are working according to it.
Minister Rambukwella asked if these quarters urging for speedy release are implying that the government move away from an established system and adopt another haphazard one when dealing with the Ex-LTTE cadres.
"There is no question of having an action plan because without one there couldn't have been thousands of releases that we have seen to this day. You have to remember that these are hardcore terrorists we are talking about who were taken into custody or who surrendered to the government. Therefore the legal proceedings are taking place against these people. If some quarters are urging to speed up the process what it implies is that its asking the judicial process to be silent. This is not within our system and our constitution clearly provides for a coherent legal system and this is what we are adhering to" he said.
Rambukwella went onto point out that the request by certain quarters completely ignoresthe procedures laid down. " There are thousands of cases regarding ex LTTErs and the Attorney Generals department has to follow these cases individually. I wonder whether what they are asking is to by pass these procedures that have been laid down? This request itself fundamentally and completely ignores the procedures and the legality of these procedures" he said.
Courtesy: DM Online
Latest Headlines in Sri Lanka