The book titled "Prabakarange Elam Sihinaya Sunu Vinusu Kala Ranaviruwo" presented to Secretary Defence
Posted by Editor on May 30, 2012 - 1:38 pm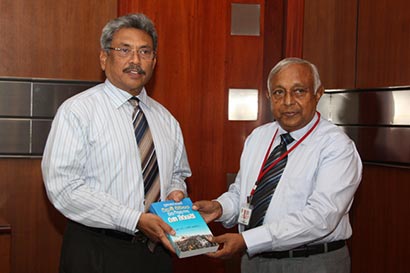 Adding another historical chapter to the military literature, a book titled "Prabakarange Elam Sihinaya Sunu Vinusu Kala Ranaviruwo" was officially presented to the Secretary Defence yesterday (29 May) at his office.
Mr. J.F. Ranjith Perera the author of this military literature presented the first copy to Secretary Defence Mr. Gotabaya Rajapaksa.
"The book is aiming to honour the valiant war heroes who sacrificed life and limb to bring lasting peace to this Island nation" said Mr. Ranjith Perera speaking to defence.lk.
Also, the book describes what Prabakaran, the terror leader of Tamil Tigers did achieving his mythical and mono-ethnic Tamil home land in this country and what Sri Lankan security forces did to prevent achieving his dreams.
Earlier in 2011, he penned his first military literature titled "Winning an Unwinnable War" evaluating the political and military leadership who contributed towards the historic triumph over terrorism.
M.O.D
Latest Headlines in Sri Lanka