Gota wants to change demography: TNA
Posted by Editor on May 30, 2012 - 1:33 pm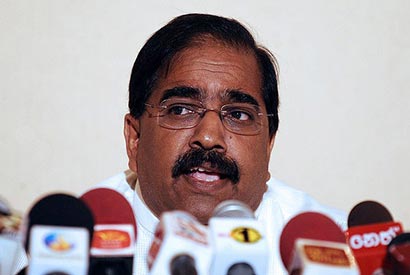 TNA MP Suresh Premachandran refuting recent remarks made by Defence Secretary Gotabaya Rajapaksa said that the statement was a prelude to changing the demographic patterns of the North.
In an interview with BBC, Defence secretary Rajapaksa has said it is not appropriate to view the north of the country, over which a separatist war was fought, as a predominantly Tamil area.
"The most recent census revealed that out of the 954,000 residents in the North 900,000 are Tamils and 23,000 Sinhalese, so what is the Defence Secretary trying to say? Almost all the census carried out by the governments, have revealed this demographic pattern. Is he saying that this is not true?"  MP Premachandran asked.
Premachandran went on to state that that the acts of the government are clearly set on an agenda. " The growing number of Buddhist temples in the area, the militarization of the north and the fact that there are new Sinhalese settlements in many areas of the North shows what the Defence Secretary wants to do is to change the demographic patterns of the Northern province" he said.
Courtesy: DM Online
Latest Headlines in Sri Lanka