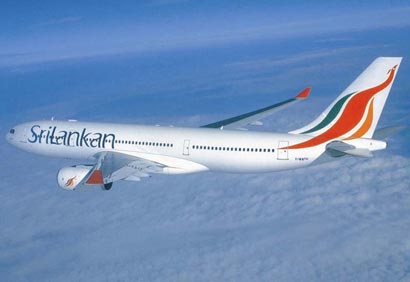 A high-octane drama unfolded at the international airport in Thiruvananthapuram on Tuesday when Indian Customs and Central Excise enforcers forced a SriLankan Airlines plane, bound for Colombo, to land 20 minutes after it became airborne and arrested three passengers on board on the charge of attempting to smuggle red sanders, a fragrant wood, concealed in their check-in baggage.
The team, led by Assistant Commissioner, Air Customs, Sanjay Bangarcale and Superintendent M. Balachandran, found the contraband wood, 100 kg in all, covered in a black synthetic material, which seemed impervious to the X-ray scanner operated by Sri Lankan Airways at its check-in baggage counter.
Enforcers described the method of operation as 'relatively new' and said it could be a trial run to smuggle more valuable contraband items, including firearms.
Those arrested were identified as Siva Prasad Nair, 35; Mahin Abu Basheer Siddique, 43; and Thirupuram Balaraman. Investigators were verifying their antecedents.
Mr. Bangarcale and his team were on a stake-out at the airport following information that three members of a family, including women, were smuggling gold from Colombo to India on flight UL 161, which touched down here around 8.45 a.m.
They found the information to be false. Meanwhile, the flight's call sign was changed to UL 162 for its trip back to Colombo at 9.30 a.m. By 9.40 a.m., Mr. Bangarcale received reliable information that three passengers onboard UL 162 had some high-value contraband concealed in their check-in baggage.
The aerobridge to the flight had by then been disconnected and the aircraft moved away from the apron area to the runway for taxiing and take-off. The Customs officials contacted their Additional Commissioner Sofia M. Joy for permission to stop the flight. She verified the credibility of the source of information and gave her team the go ahead.
The flight took off and the Customs enforcers were not able to get in touch with the air-traffic control, ostensibly because they did not have wireless sets on hand.
The enforcers contacted an ATC staff on his mobile phone. The flight had been airborne for nearly 20 minutes and was fast approaching its destination.
The ATC contacted the flight and asked the pilot to turn back.
Flight UL 162 touched down at the airport here at 10.30 a.m. Customs enforcers used a mobile stairway bridge to board the flight. The passenger manifesto, which also showed where the suspects were seated, allowed them to detain the alleged carriers without causing inconvenience to other passengers. (The Hindu)