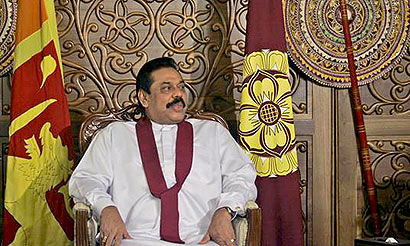 Following several suicides which were indirectly linked to Facebook, and controversial rumours demanding the ban of the website, President Mahinda Rajapaksa yesterday (25) assured the public that Facebook will not be banned under any circumstances.
The death of two girls – one, a schoolgirl who was admonished by her principal over a picture of her and her boyfriend which had appeared on the site; and the second, of a girl who had created a fake profile and committed suicide once her true identity was revealed to her Facebook-boyfriend, had led to much controversy over the popular social media site.Director General of the Telecommunication Regulatory Commission (TRC), Anusha Pelpita, informed the media that the TRC would have to suspend the site if the National Child Protection Authority (NCPA) or the Ministry of Child Development and Women's Affairs, took a policy decision against Facebook.
The issues that arose consequent to the two suicides, caused an uproar among the Sri Lankan Facebook fans, as many users of the site pointed out the obvious fact that the social media site was not directly or indirectly responsible for the actions of a few young girls.
Settling all rumours once and for all, President Rajapaksa tweeted that the government has no intention to ban social media in Sri Lanka.
"For a government that has always promoted ICT, we have no intention of banning social media in the country. We want people to understand social media's powerful advantages as well as its potential dangers, especially when children use it," he said, adding that the government is working towards promoting the safe use of social media, and not working towards banning it.
(Courtesy : Ceylon Today)