Malinga five-for cuts Pakistan short
Posted by Editor on February 26, 2014 - 8:03 am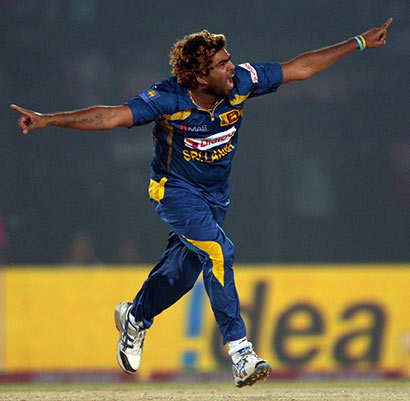 Sri Lanka 296 for 6 (Thirimanne 102, Sangakkara 67, Mathews 55*) beat Pakistan 284 (Umar Akmal 74, Misbah 73, Malinga 5-52) by 12 runs
Lasith Malinga reasserted his skill for rattling chases in a tight finish, after Lahiru Thirimanne had proclaimed his relevance to the ODI format, as Sri Lanka sputtered to a thrilling win in the Asia Cup opener in Fatullah.
Pakistan lost their top order cheaply, surged, collapsed, then surged briefly again, in search of 297, but the total that had been set up by Thirimanne's 102 was 12 too many, despite half-centuries from Misbah-ul-Haq and Umar Akmal.
Malinga's 5 for 52 was his first in ODIs since January 2012, as he claimed the two last Pakistan scalps in an unflappable 49th over replete with tailing yorkers. Bilawal Bhatti and Saeed Ajmal had managed 17 runs from the previous over to whittle the requirement down to 17 from two overs, but Ajmal was caught in front by a yorker, and Bhatti had one clatter into his off stump. Bhatti's wicket was Malinga's 250th, and he achieved the milestone faster than any other Sri Lanka bowler, beating Muttiah Muralitharan by 11 matches.
Pakistan had earlier seemed in control, with 55 needed off 46 balls and six wickets in hand, thanks to the 121-run stand between Misbah and Akmal. But Malinga was vital to quelling that charge too. He struck twice in four balls in the 45th over, to swing the match strongly in Sri Lanka's favour, before dismissing Umar Gul in his next. All of his wickets came in his last 15 balls.
During Sri Lanka's innings, Thirimanne's 161-run stand, off 146 balls, with Kumar Sangakkara had been the centrepiece. The pair pushed the run rate close to six, promising a total well in excess of 300, but a stutter in the batting Powerplay and a focused Pakistan, led by Saeed Ajmal, in the late overs ensured they did not finish with force.
Thirimanne, backed by the selectors to open instead of Mahela Jayawardene, was fluent from the outset, and despite his strike rate of 92.72, was rarely ruled by aggression. A crisp cover drive off Gul brought him his first boundary in the second over, and that stroke – his favourite – proved equally productive against spin. Casually authoritative on the off side to begin with, Thirimanne eventually added a leg side element to his play, even swinging Mohammad Hafeez over deep midwicket for six, in the 31st over.
In between the sweetly struck fours, Thirimanne was also adept at measuring singles. Aided by a surface that offered little seam movement or turn, and by Sangakkara's enterprise at the other end, he eased to his half-century in the 20th over, then launched an offensive after the 25th.
For a batsman who has spent much of the past two months sidelined with injury, Thirimanne was as stoic as he was confident. The nineties drew no fidgets or hair-brained strokes. He flitted through them, as he had done throughout his stay, to record his second triple-figure score in ODIs. The milestone, fittingly, came from a cover drive. The celebration, typically, was understated.
Though Thirimanne had modeled his strokes and approach on his senior partner, Sangakkara had not been quite so mellow. Often he strode forward against the quicks to make length deliveries overpitched, and his initiative became Sri Lanka's impetus. He hit 67 from 65 balls, before thumping an Umar Gul bouncer to the only infielder on the leg side.
Angelo Mathews embellished his regained stature as a finisher with an unbeaten 55 off 50 balls, but with no secure ally at the other end, he could not attack freely at the close. Ajmal's varied final spell was Sri Lanka's biggest hindrance. He finished with 1 for 50 from his full quota, while Umar Gul, who strangely only bowled eight overs, took 2 for 38.
Pakistan had fizzled to 121 for 4 in response, before a measured Misbah and an impetuous Akmal fanned the embers of the chase, only to let it grow cold when triumph was in sight.
There was little to separate this Misbah half-century from the dozens he has scored in the past 14 months. A staccato of curt defensive prods and opportunistic nurdles broken by startling, occasional blasts: a whack over long-on off Thisara Perera and a slog over midwicket off Sachithra Senanayake cleared the ropes with ease. His innings could have ended at 44 when he gave a feather-edge off Suranga Lakmal, but as the only giveaway to Misbah's indiscretion was one muffled, woody note, the umpire was unmoved.
Akmal's progress was smoother, until he unleashed towards the end. He carted Suranga Lakmal for 16 in the 41st over and slammed two fours off debutant left-arm spinner Chaturanga de Silva in the next. Angelo Mathews bravely kept Lakmal on and the bowler was rewarded with an edge to the keeper that sparked Pakistan's late stumble. When Misbah leathered Malinga to deep square leg, it appeared Pakistan were all but done.
Lakmal had delivered four overs of accurate away-seam with the new ball, claiming Sharjeel Khan's wicket, but though he dismissed Akmal, his figures in the final overs suggested he has not yet developed a head for death bowling. Senanayake and de Silva took one wicket apiece, and Mathews himself took the key scalp of Mohammad Hafeez, who had been Sri Lanka's primary tormentor during the bilateral series in December.
(ESPN CricInfo)
Latest Headlines in Sri Lanka