Sri Lankan author Shehan Karunatilaka wins DSC prize
Posted by Editor on January 23, 2012 - 7:36 am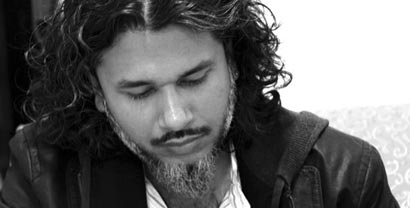 Chinaman, a novel by Singapore-based Sri Lankan writer Shehan Karunatilaka, on Saturday won the 2012 DSC Prize for South Asian Literature which carries a cash award of $50,000, the Hindu reported.
The title of the novel, published by Random House, refers to a left-arm unorthodox spinner in cricket, often described as the chinaman. The legend of a Sri Lankan bowler called Pradeep Sivanathan Mathew and the sport of cricket lie at the heart of this superbly written book. It explores cricket as metaphor to uncover a lost life in a lost history. "Chinaman skilfully uses sport and the notion of fair play to look at Sri Lanka in a fresh and exciting way," the book's blurb says.
Accepting the prestigious award, Karunatilaka said the fortunes of his novel were very closely linked to the fortunes of his country's cricket team to whom he wished to dedicate this win. "We have performed dismally this past year. The time we lost the World Cup was when my novel was accepted for publication," he said.
Kamila Shamsie reviewing the book in The Guardian wrote: "No knowledge of or interest in the game of cricket is strictly necessary to appreciate the power and the delights of this novel about a dying alcoholic and retired sportswriter WG ("Wije") Karunasena, who decides that he will use what remains of his life to make a documentary about Sri Lankan cricket and, in particular, about a neglected but brilliant figure from its margins: PS Mathew. Wije's obsession with Mathew may form the spine of the book, but it does it in a way that makes it possible to focus on the obsession rather than the cricket if you're so inclined."
The president of the jury, writer and commentator Ira Pandey, said the jury's decision was "unanimous." She said the jury received 52 books in June last year. "Seeing the pile some of the jury members almost fainted! We finally made a short list of 6 books. It took us just half an hour to reach a unanimous decision. This has been a most congenial and delightful experience which taught me a great deal about the South Asia region," Ms. Pandey said
Besides Chinaman the final short list included U.R. Ananthamurthy's Bharathipura (Oxford University Press, India, Translated by Susheela Punitha), Chandrakanta's A Street in Srinagar (Zubaan Books, India, Translated by Manisha Chaudhry),Usha K.R's Monkey-man (Penguin/Penguin India), Tabish Khair's The Thing About Thugs (Fourth Estate/HarperCollins-India) and Kavery Nambisan's The Story that Must Not Be Told (Viking/Penguin India).
Jury members included Dr. Alastair Niven, Principal of Cumberland Lodge, Windsor, Faiza S Khan a columnist and critic, author Marie Brenner and Fakrul Alam, Professor at Dhaka University.
According to the organisers, "the prize brings South Asian writing to a new global audience through a celebration of the achievements of South Asian writers, and aims to raise awareness of South Asian culture around the world."
Courtesy – The Hindu / Sunday Times

Latest Headlines in Sri Lanka