Sri Lankan boats intercepted in waters of Seychelles
Posted by Editor on November 9, 2018 - 6:00 am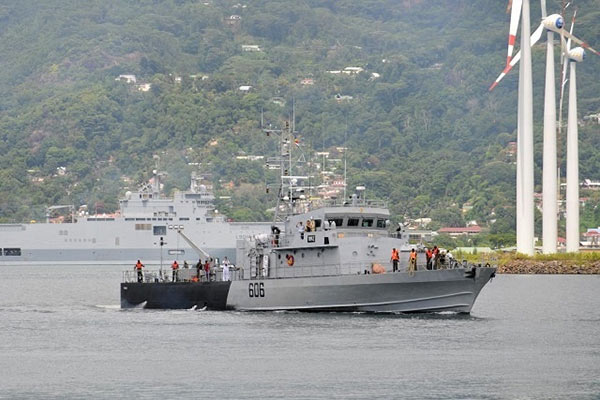 The captain of a Sri Lankan-flagged vessel appeared in court after being arrested for allegedly fishing illegally in the waters of Seychelles, while a second captain is being investigated after two boats were intercepted by the Seychelles Coast Guard.
The announcement of the interception of two foreign fishing vessels by the Seychelles Coast Guard (SCG) was made by the Seychelles People's Defence Forces on Friday. The two Sri Lankan-flagged vessels were first spotted by local fishermen around 90 nautical miles south-east of Mahe, the main island.
The two vessels were intercepted by the Seychelles Coast Guard's patrol ship Topaz and patrol boat La Fleche. The vessels were handed over to the Seychelles Fisheries Authority and the police upon arrival in Port Victoria on November 2.
According to the Seychelles Fisheries Authority (SFA), the captain of one of the vessels appeared in court on Tuesday and will remain in custody until November 19.
The authorities are still investigating to see if there is enough evidence for a case against the captain of the other Sri Lankan-flagged vessel.
The Seychelles Fisheries Authority is assisting the police in gathering evidence as to the species and amount of fish found onboard the two vessels.
If confirmed the case would be the third incidence of illegal fishing by Sri Lankan-flagged vessels in the waters of Seychelles this year.
In May that a fine of 20.5 million rupees ($1.5 million) had been imposed on a group of Sri Lankan fishermen for violating Seychelles' maritime borders. The Sri Lankan High Commissioner in Seychelles was quoted as saying that "their boats have also has been confiscated by the Courts."
In July, another Sri Lankan-flagged vessel was spotted by Seychelles Coast Guard patrol ship Andromache north-west of the main island of Mahe during a routine patrol. A Coast Guard team was subsequently sent on board the suspected vessel to conduct an inspection, during which evidence relating to illegal fishing was observed.
Seychelles has a vast Exclusive Economic Zone of 1.4 million square kilometres, which presents a challenge when it comes to the monitoring of illegal fishing, which adds pressure on the available resources.
Fishing is the second top contributor to the economy of Seychelles, a group of 115 islands in the western Indian Ocean.
(Source: Seychelles News Agency)
Latest Headlines in Sri Lanka