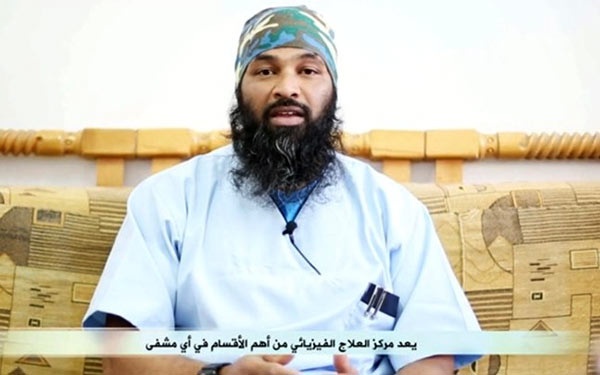 Doctors from several countries including Sri Lanka are working for the ISIS healthcare service, claims a suspected Indian doctor working for the ISIS and recruiting youths for the terror group.
The doctor, believed to be from the southern state of Kerala, recently featured into a propaganda video of Islamic State of Iraq and Syria (ISIS).
The 15:28-minute video has been released by the Islamic State describing its health services. It features a suspected Indian doctor, whose identity has not been established.
The video names the doctor as Abu al Muqatil, which the India security agencies suspect could be a codename for the person.
Abu Muqatil al-Hindi, who appears to be in his mid-forties and speaks with a thick accent, is seen exhorting medical professionals from across the world to join the healthcare services at the ISIS-held zones of Syria in the name of Islamic brotherhood.
Intelligence officials said the last name – in this case, al-Hindi – is commonly given to identify the place of origin of an ISIS recruit.
In the video clip, al-Hindi gives out details of ISIS healthcare services getting support and volunteers from several parts of the world.
"We have doctors from Australia, Sri Lanka, Tunisia… and that's the few to be named. We have female doctors separately for the females and for the children," he says.
Al-Hindi describes how the ISIS healthcare service has grown from strength to strength due to continued support from foreign countries as they are able to provide medical services from 30 patients a week till some time back to 500 now.
The video shows an operational medical facility with all the modern equipment. Other doctors in the video identify themselves with their erstwhile nationalities, like Australia, Egypt and Syria, underlining their case as why Muslim medical professionals should join their ranks.
The footage features doctors in a variety of units, ranging from a special kidney center to a medical school.
"We strongly suspect al-Hindi to be at the helm of recruiting jihad-sympathisers from India," a top security official told Mail Today on condition of anonymity.
(Source: India Today)