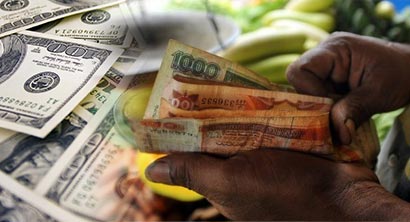 The Sri Lankan rupee fell on Thursday in dull trade, snapping four consecutive sessions of gains, as importer dollar demand surpassed greenback sales by exporters, dealers said.
Rupee forwards were active with two-week forwards ending at 151.90/152.00 per dollar, compared with Wednesday's close of 151.70/80.
"There was light importer demand, and the rupee ended weaker in light trade," said a currency dealer on condition of anonymity.
Sentiment was also negative after ratings agency Moody's said in a report that lower agricultural exports and higher imports to substitute for the loss in domestic production will weigh on current account deficit and foreign exchange reserve, a key constraint to the country's credit quality.
The government's handouts for farming families affected by drought could make the fiscal deficit target a challenge, Moody's added.
Lower agricultural output due to the drought will force the government to increase imports, dealers said. For further imports, the government needs more U.S. currency while there will be fewer dollars coming in from agriculture commodity exports. Both will increase the demand for the greenback and put pressure on the rupee.
The rupee is also under pressure due to dollar demand from importers ahead of the traditional Sinhala-Tamil New Year in mid-April, and as foreign investors continue to sell government securities, dealers said.
Sri Lanka's fuel imports in January jumped to double typical monthly levels, with the country rushing to plug an energy shortfall as severe drought hits its hydropower output, industry sources said.
Foreign investors sold a net 15.37 billion rupees ($101.62 million) of government securities in the week ended Feb. 22, extending the outflow from such instruments to 64.5 billion rupees.
Sri Lanka could face balance-of-payments pressure due to foreign outflows from government securities, a government document showed last month, even as the island nation was in the process of raising up to $2.5 billion from foreign borrowing.
The rupee has weakened 1 percent so far this year. It fell 3.9 percent last year, following a 10 percent drop in 2015. ($1 = 151.2000 Sri Lankan rupees)
(Reuters)