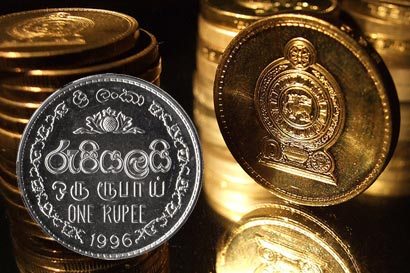 The Sri Lankan rupee was little changed in dull trade on Friday as investors were on year-end holidays, dealers said.
The spot rupee was trading at 130.70/75 per dollar at 0522 GMT, hovering around its highest close since Oct. 25 hit on Dec. 20, and a tad firmer from Thursday's close of 130.72/75.
"Going in to the year end, nobody wants to do anything and they are happy with their positions," said a currency dealer asking not to be named.
Dealers expect the rupee to be under downward pressure in January, reversing the current trend, due to a lack of demand for local currency loans and despite a sharp reduction in interest rates.
The central bank cut the key monetary policy interest rate by 50 basis points in October and has slashed them by 125 basis points since December 2012 to multi-year lows, while yields on treasury bills dropped to their lowest since November 2011 at last week's auction.,
However, private sector credit growth, which fell to 7.4 percent year-on-year in October from 7.6 percent in the previous month, has yet to pick up in line with the reduction in interest rates.
Dollar buying by a state bank offset the boost to the rupee from expatriates sending money to their families for Christmas and New Year. The local currency has gained 3.4 percent since it hit a record low of 135.20 on Aug. 28.
At 0528 GMT, Sri Lanka's main stock index was up 0.14 percent, or 8.35 points, at 5,856.84. (Reuters)