Sri Lankan tourists' tour plan goes awry
Posted by Editor on December 7, 2015 - 8:22 am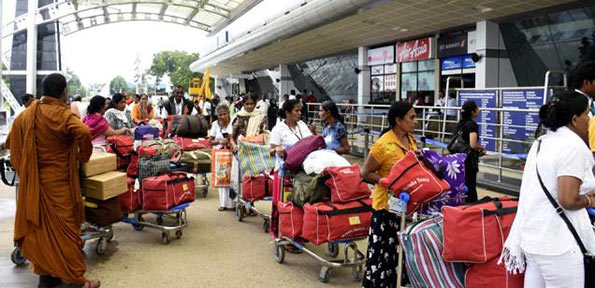 Mallika, a Sri Lankan national, could stick to her travel plan till the torrential rain started in Chennai. Once the downpour started, she was forced to return to the island nation.
The catastrophic flooding in the city due to the record-breaking rainfall left her stranded in the completely crippled for four days.
Ms. Mallika was not the lone tourist from Sri Lanka to have got stranded in Chennai over the last few days. Over 150 Sri Lankan tourists who came on an India tour last month had to encounter the same fate owing to torrential rains in Chennai that led to the closure of the airport.
"The Sri Lankan tourists came in different groups to India in mid-November in a tailor-made itinerary," said Amit Ranadeva, a pilgrim operator, who led one of the groups from the island nation.
"Everything went on as per plan and we visited Bodh Gaya in Bihar and Kathmandu in Nepal before coming to Chennai," Ms. Mallika said.
"We were scheduled to return to Colombo on December 3 by an Air India flight. But, the heavy downpour that flooded Chennai left us stranded", she said.
"Our group, which was coming by train to Chennai after visiting Varanasi, Vaishali and Lumbini, could not proceed beyond Nellore as the service was stopped due to torrential rain. We managed to reach Chennai by bus," Amit Ranadeva said. The closure of Chennai airport disrupted their return journey.
On the intervention of the Sri Lankan Deputy High Commission authorities, the stranded Lankan tourists were accommodated in the Sri Lanka Mahabodhi Centre at Egmore.
After a four-day stay at the Maha Bodhi Centre, the Sri Lankan Deputy High Commission arranged special buses for the tourists to reach Tiruchi.
The plan was to take them to Colombo by a special flight. Sri Lankan Airlines came forward to operate a special flight.
The tourists left Chennai in four buses in the late hours on Saturday.
The special flight UL- 1132, an Airbus 330 aircraft, left with 165 Lankan tourists on board at noon on Sunday, airport sources said.
(The Hindu)
Latest Headlines in Sri Lanka