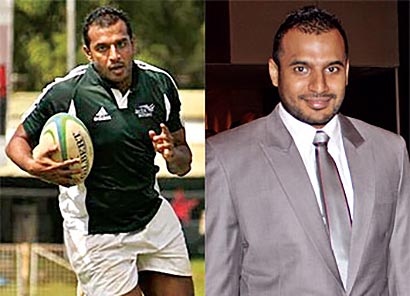 Former rugby player Wasim Thajudeen's family will go before the National Police Commission (NPC) seeking action against Police officers who made 'false reports' dubbing the rugby player's death as an accident.
A source close to the Thajudeen family said their lawyers would meet NPC members this week to discuss the matter.
The family will lodge complaints against the former OIC of the Narahenpita Police station and several senior Police officers who handled investigations into Thajudeen's case, three years ago.
They would also seek action against a retired Senior DIG who had strong links with the top-notch members of the previous government, for allegedly manipulating the Police investigation.
A lawyer looking after the interests of the Thajudeen family told the Daily News yesterday that the Narahenpita Police had created false report to deliberately mislead the public on the cause of the rugby player's death. The JMO report on Thajudeen's death presented to court last week, concluded that Thajudeen was not in the vehicle when the alleged 'accident' took place. It says there is evidence to believe that an 'accident-scene' was set up and Thajudeen's body was put into the vehicle.
The fractures, according to the report, could only be seen in upper and lower parts of the bones. Therefore, the report concludes that such fractures cannot happen as a result of a fatal accident.
The medical experts who prepared the report have opined that such damages to bones can only be caused by an assault with a blunt weapon.
The report says the bone below Thajudeen's left knee was also broken as a result of an assault. It also referred to a blow to his head that left him unconscious during the attack. Medical experts also state that it is impossible to believe that the injuries to his neck and chest were caused during an accident, as the position of the steering wheel did not suggest anything of that nature.
Their report said it was possible to speculate that the injuries were caused during an attack. The report also refers to a bleeding injury below his neck.
According to the findings of the CID, Thajudeen's body was not in the front seat of the vehicle. It was recovered from the adjacent front seat of the partially burnt vehicle.
(Daily News)