Sri Lankan workers in Iraq end hunger strike
Posted by Editor on June 22, 2011 - 12:54 pm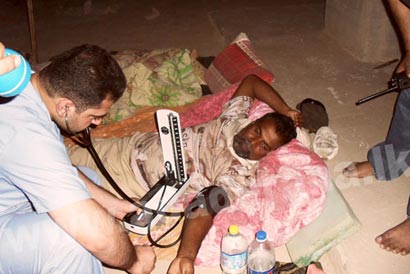 Thirty Sri Lankan labourers in south Iraq on Tuesday ended a week-long hunger strike over demands for two years of back pay after assurances from local human rights officials, a local mayor said.
The workers said they were each promised 2,000 dollars per month to work for Talat Osam al-Deen construction firm in the southern city of Amara but had not been paid since arriving in Iraq two years ago.
"The Sri Lankan workers ended their hunger strike after a committee from the provincial human rights department assured them it would sue their employer and claim their rights," said Hussein al-Yasiri, a district mayor in Maysan province, where Amara is the capital.
Some of the workers told a news agency yesterday that they had began the hunger strike because they had been unable to send money to their families back home.
The workers were hired to build a government housing complex in Amara, but the company failed to break ground on the project, which was then passed on to another firm, said Maitham Lefteh, a member of Maysan's provincial council.
Thousands of South Asian workers are employed in menial jobs in oil-rich Iraq, many working for catering, cleaning and transport contractors for US forces posted in Iraq since the 2003 invasion.
PTI / Ada Derana
Latest Headlines in Sri Lanka