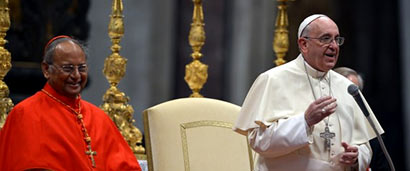 The two main candidates in Sri Lanka's presidential election have promised a violence-free vote, with Pope Francis scheduled to visit the country just days later, a church leader said.
Francis is to begin a three-day visit on Jan. 13, five days after the poll. Some church officials are seeking a postponement, fearing there could be post-election violence because of the acrimonious campaign.
President Mahinda Rajapaksa, who is seeking a third term in office, is facing his former health minister, Maithripala Sirisena. Sirisena defected from Rajapaksa's government after the election was announced last month.
Cardinal Malcolm Ranjith said the bishops' conference met with both candidates and received their assurances of no violence, the Catholic weekly newspaper Messenger reported on its website.
"We need to have faith and believe in what they both told us," Ranjith was quoted as saying. "In fact there were a lot of cross questions posed by the bishops and both candidates said that whatever their status is after the elections, either as the winner or as the loser, they will both welcome the holy father when he steps down at the airport."
About 70 percent of Sri Lanka's 20 million people, including both main candidates, are Buddhist. Roman Catholics number about 1.2 million.
(AP)