Sri Lanka's opposition to protest for removal of government
Posted by Editor on May 29, 2015 - 7:11 am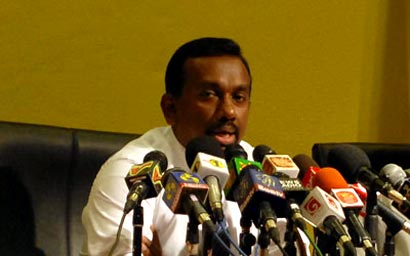 Sri Lanka's main opposition the United People's Freedom Alliance (UPFA) said on Thursday that it will be launching protests after June 9 to gather support for the removal of the current government.
UPFA legislator and former sports minister Mahindananda Aluthgamage said that the government has failed to achieve its goals within the 100 days since it took office.
"This government has no right to continue. They were given only 100 days. We gave them bonus days as well but still they have failed," he said.
Aluthgamage said that on June 9, after handing over a no-confidence motion against Prime Minister Ranil Wickremesinghe to parliament, the opposition would gather public support to remove the government by holding protests around the country, Xinhua news agency reported.
According to him, public support will be gathered to make former president Mahinda Rajapaksa the next prime minister with incumbent President Maithripala Sirisena maintaining his post.
UPFA will also organise a rally in the southern town of Matara on June 12, as part of a series of rallies in support of Rajapaksa and 75 members of parliament have confirmed their participation.
The next rally will be held in the north central town of Anuradhapura where 100 parliamentarians are expected to attend, he added.
(IANS)
Latest Headlines in Sri Lanka