Stampede for Korean jobs
Posted by Editor on August 9, 2011 - 9:06 am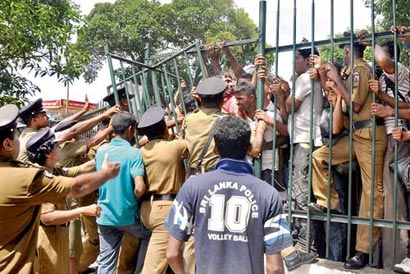 Some 10,000 Korean job seekers — some of whom were even camping out from Sunday morning — struggled through a day of chaos and confusion when a large number were refused application forms to sit the Korean language examination, as a result of a stampede at Police Park in Havelock Road yesterday.
The job seekers brought traffic along Havelock road to a grinding halt causing hours-long traffic jams.
Some job seekers told Daily Mirror they had been in the front of the queue when those at the back had pushed their way to the front and the distribution of application forms was stopped abruptly though it was scheduled to go on till 4.00 p.m. "I've been here since last night without anything to eat and slept on the pavement hoping to get an application form today. It's been a few hours since the application process began but we have been told that no more applications forms will be handed over today," a Tissamaharama resident Sanjeewa Silva said.
The Sri Lankan Bureau of Foreign Employment (SLBFE) which had advertised for the Korean job applications said 3,500 application forms were accepted though it appeared that less than 1000 were selected at the police grounds yesterday.
"We were deprived of our application forms today because we were pushed and trampled by an enormous crowd. If the authorities had organized the distribution process in a more organised manner we would have not suffered like this," Mahinda Kannangara a Matara resident who had been in the queue since 10.00 a.m. on Sunday said.
The SLBFE said the applications were distributed at 23 centres around the country however there were a large number of prospective job seekers from as far away as Jaffna, Galle, Embilipitiya and Negombo. Police said a job seeker had fainted from the lack of food and had to be rushed to a hospital.
Job seekers are required to sit for a mandatory Korean language exam and undergo a week's STF training to qualify for the application process. "I have spent more than Rs.50,000 on tuition and if I do not get an application form it will be a waste of money," Mohammad Salmi said.
According to reports a tense situation prevailed at most of the SLBFE branches including Galle and Matara where these forms were being distributed. SLBFE Deputy General Manager Mangala Randeniya said the SLBFE had received 45,000 job applications from Korea but said it was not enough and would be requesting for another 15,000 applications from Korea due to the high demand.
Courtesy: Daily Mirror
Latest Headlines in Sri Lanka