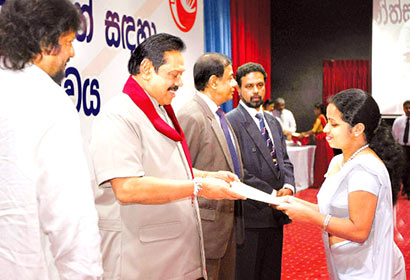 The government has strengthened and streamlined the state services in accordance with present day requirements aiming to obtain the maximum benefit for the country, President Mahinda Rajapaksa said.
"The state service therefore, has come forward with the true aim of serving the nation, fulfilling the aspirations of people, shedding its lethargic attitudes and work patterns, which have hitherto drawn the ire of the public," the President said.
The President was addressing a ceremony at Temple Trees yesterday
to hand over appointment letters to 1,080 officers to the Sri Lanka Postal Service. This staff recruitment was reported after 16 years.
President Rajapaksa said the Postal Department has a unique long history over 207 years. The officials of the Postal Department should perform an exemplary role respecting the postal service while understandings the unbroken glorious history.
The President further added that the postal service will be benefited with the young work force. The new recruits have to gather knowledge developing abilities and capabilities.
The new recruits have to be a competent human resource, which can perform an excellent public service through sound administrative systems.
Addressing the gathering, President Rajapaksa said 55,000 graduates have been recruited to the state service last year and then the state service has expanded to 1.4 million.
The treasury has to allocate necessary allocations for paying salaries and other allowances of the state service. While allocating such amount to state service the government carries out various other development and infrastructure development activities.
"The new recruits have to gather knowledge in various fields so as to fit to the modern and ever changing world. You must be equip with English language ability, information technology, modern technology etc.
The state servants should not neglect the vital and pivotal role and responsibilities that come with their duty. Government officials are entrusted with the responsibility to assist the public in obtaining redress to their problems, while performing an exemplary role in the service of the state" he said.
The President further said that there was an era in which post offices were set on fire. Mail bags were also set on fire while on the way for distribution.
Though the Postal service could not destroy by such vandalism.
The President also stressed the need for government servants to fulfill public aspirations. "Fulfill the duty that you are bound to do first. Then, you, your village and your country will develop," the President advised. (Courtesy: Daily News)