Nasheed supporters rise in midnight protest across 'Male'
Posted by Editor on February 16, 2013 - 8:39 am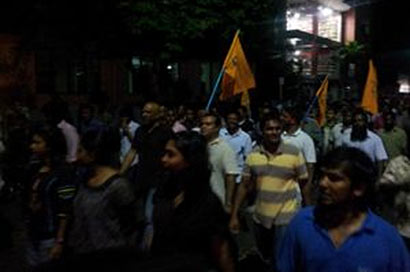 Submitted by Walter Jayawardhana
MALE: When the rest of south Asia went to sleep on Friday, thousands of Maldivians rose in protest demanding the safety of their former president Mohamed Nasheed and formation of a caretaker government in place of president Waheed Hassan Malik to ensure free and fair elections in September.
Nasheed, the first democratically elected president who stepped down last year after protests over the arrest of a judge, had on Wednesday taken refuge in the Indian high commission in Male fearing arrest.
Around 10pm local time (half an hour behind IST), about 5,000 supporters of Naheed's Maldivian Democratic Party gathered as Usfasgandu, the southern beach of Male city. Anti-riots police and the military lined the streets as the protesters took out a rally towards Waheed's house on Orchid Magu.
Police cordoned off several approach roads to the president's residence and confiscated an MDP rally vehicle which used a set of loud speakers.
More than an hour later, as the rally moved on to Orchid Magu, police used mild force, triggering further protests. "We are not carrying any weapons, but police are beating us," said Mohamed Shahid, a young leader of MDP. "They think they can disperse us, but we will gather again to give them sleepless nights."
The protesters did exactly that soon after dispersing. A few thousands of people streamed through the narrow streets to converge again on arterial road Majeedhee Magu to shout slogans in support of Nasheed. Three teenage girls, wearing jeans and black tops, raised slogans which others repeated in chorus. Several women, most of them wearing headscarf, joined their husbands and sons on the streets.
As midnight struck, the rally of yellow flags meandered through the cobbled streets, waking up the rest of the town.
The military and police were asked to be on standby through the night near the president's house. Around the Indian high commission, where Nasheed is put up, police called for reinforcements. Till the wee hours, pro-Nasheed slogans rent the air across the tiny atoll lashed by Indian Ocean waves. (Courtesy: India Times)
Latest Headlines in Sri Lanka